​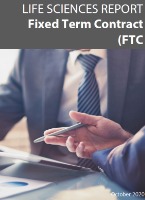 Our latest industry analytics report features analysis on Fixed Term Contracts (FTC) within the life sciences industry.
Cpl Life Sciences CEO, Yvette Cleland comments:
Our latest report on the life sciences industry and vacancy landscape shows some interesting, if not unexpected trends. Since the Spring of 2020 we have seen a significant increase in vacancies coming out via Fixed Term Contracts (FTC) and year to date have seen an increase of 14% versus 2019 in the UK and a 24% increase in FTC roles in Europe. In fact, from July this year until September we saw a Q3 jump of 35% increase of FTC roles in the UK and 42% in Europe.

During times of global change, we generally see a significant shift to temporary labour models of employment versus permanent. As businesses navigate the immediate crisis, in this case the global pandemic, life sciences firstly focus on safeguarding employees and patients and as a result we can currently see a move to charting a recovery pathway. Whilst there is still a huge risk with Covid-19 and infection we are seeing adaptations to the product development process.

On the backdrop of the current disruption there is limited appetite in high volume permanent recruitment and therefore the shift to FTC is not unusual, but even so the volume increase is still significant. We have seen particular surges in open vacancies within Regulatory Affairs with new regulatory guidance and parameters released on an ongoing basis as a rapid response to the challenges and industry. Worthy of a mention in terms of upward trend in hiring is also connected to Clinical Development with an increase of vacancies by 16% since 2018 with a growing trend in 2020. With additional feedback and evidence of the crisis diverting executive attention from normal business, R&D leaders say they are spending an average of 40 to 50% of their time on crisis management. As attention diverts to the crisis, critical hires are still required and the lower risk and faster timelines for starting are a key influence on taking on FTC candidates.

So, what is the next part of the journey? With the potential of a vaccine coming through from Pfizer, this allows the stock market to get excited and starts to build confidence in industry to start looking at the "new normal". Rather like a hangover from a crazy night out, there is a requirement to get ourselves in recovery and plan to never fall victim to the unexpected behaviours exhibited whilst "under the influence". In real terms shaping the new world will involve reimagination. Building on the innovations that have been rapidly introduced during the Covid-19 crisis in order to create a more sustainable, patient-centric development paradigm. Whatever a new and more sustainable world looks like, none of us have time to pander to our hangover and take a day out. New working practices and technology has been knocking at the door of life sciences for a long time, Covid-19 will definitely be the trigger for a faster drive forward for the majority of businesses and as Executives revert from crisis management to business change, it will be interesting to see the emerging change accelerated by necessity, who we all know to be the Mother of all invention.