​What We Did
Our client was a long term client of Cpl's where they provide significant talent recruitment services. As part of the Cpl strategic account management relationship development and engagement, the Irish leadership team wished to re-imagine their employee attraction, retention and engagement approach.
To rethink how they think about their employees, their diversity and inclusion journey, the future of work in their business, leadership mindset changes needed and the roadmap for organisation redesign and transformation.
How We Did It
Through a highly interactive workshop, with an introductory session on the Future on Work, the leadership team were immersed in the EVP diagnostic. The leadership team were split into 3 groups of 4. Within several hours the teams were challenged by their perception of their own EVP.
What became very clear was the alignment and differences of what their EVP really is across the three groups and the areas for strategic focus of what they need to become world-class in and be known for. These feed into the employer brand.
The EVP is key to the attraction, retention and engagement strategy across the employee journey and input into all change programs. This is a natural outcome of the world of contradictions that businesses work in. The next stage is to manage for these contradictions. In addition, the perception of the current employees and candidates, and ex-employees will need to be layered into the future organisational design.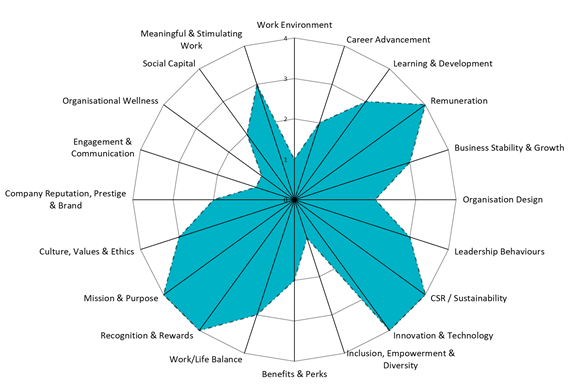 ​
Outcome
The outcome was an EVP framework upon which the leadership team can structure their employee engagement future, attraction and retention strategies, and action plans.
​
Want to know how we can help grow and futureproof your business?