​
Welcome to Cpl's Salary Guide | 2023, Ireland's definitive guide to salaries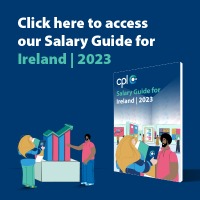 ​
​In 2022 we saw a seismic shift in the talent landscape. Organisations rapidly adapted to meet the changing needs of their employees and the market. While the COVID-19 pandemic greatly impacted the talent market, 2022 also saw a massive resurgence with a growing demand for skills in areas such as technology and healthcare, two of Ireland's most important sectors. To attract and retain the best talent, businesses have increased their investment in benefits such as flexible working arrangements, training and development, and a growing focus on diversity, equity, and inclusion (DEI). With a highly competitive market, top talent demands higher salaries and more comprehensive benefits packages.
​2023 will be characterised by the evolution of several key trends and developments stemming from the pandemic. There is a growing emphasis on remote work and flexible working arrangements. The accelerated shift towards digital transformation saw remote work become the mainstay for many employees. People adopted this new way of working and the benefits it brought. Remote and hybrid working arrangements are now seen as a 'must-have' for many people. As a result, many companies are now seeking to hire employees skilled in digital technologies who can work effectively in a remote environment.
Another trend in the talent market is the increasing demand for technical skills, especially in areas such as data science, artificial intelligence, and machine learning. While the headlines show technology companies shedding workers, the growth of these technologies has created new job opportunities. The demand is also spreading as companies see the potential for these technologies to drive business growth.
The investment in diversity, equity, and inclusion (DEI) is on the rise as more and more companies recognise the ethical and business imperative of a diverse and inclusive workforce. To achieve this goal, companies are actively seeking to hire individuals from under-represented groups and foster an inclusive workplace culture that values and supports everyone. The ultimate objective is to create an environment where all employees feel valued and included.
In terms of remuneration, the talent market remains competitive. Top talent will continue to command high salaries and attractive benefits packages. Companies are also looking at other ways of retaining and attracting the best employees. Many are investing in health and wellness programs and training and development opportunities.
Ireland's talent market is expected to remain competitive in 2023. The trends which will shape the year; the growing emphasis on remote work, the increased demand for technology-based skills, the focus on DEI, and competitive compensation, will make it a challenging one. However, these trends create new job opportunities and growth potential for organisations.
Reach out to our expert teams to learn more about how 2023 will impact your business.