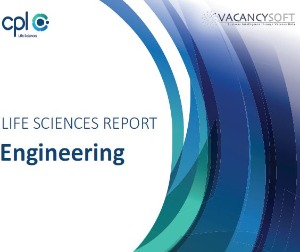 Our latest industry analytics report features analysis on Engineering within the life sciences industry.
Cpl Life Sciences CEO, Yvette Cleland comments:
"The UK has a very strong research and development sector, recognised as a leading light on a global basis. Industrial leaders and policymakers in government are recognising that unless the UK can translate this world-leading knowledge into the products, processes and services that will add to the value of the UK economy and help us address the many challenges we face, the full benefit of our research excellence will not be achieved. As we emerge tentatively and with caution from the global Covid-19 pandemic the opportunities in High Value Manufacturing (HVM) via the HVM Catapult will play a significant role in stimulating economic recovery. Prior to the pandemic the HVM Catapult had assisted in over 4,600 innovation support projects, over 2000 of these within SME's focusing on improving productivity, efficiency and profitability. The investment here was about ensuring a competitive UK in global markets. In order to deliver on these ambitions highly talented engineers become a pivotal workforce across HVM and of course the whole of life sciences.
Each month Cpl Life Sciences looks at different core areas of the life sciences markets based on the volume of job vacancies in key skill sectors, whilst some of this commentary has focused on the manufacturing area of engineering within life sciences, our data covers roles across the broad and diverse range of positions within engineering in life sciences. The UK currently accounts for 47% of engineering roles outside of the EU. Live, open job roles for engineers in life sciences continued rising through Q2 of 2020, where they amounted to 911 job opportunities. In Q3 this increased slightly to 1012 vacancies, a month-on-month climb of 11%. On this trajectory, 2020's total live roles for engineers will have increased by 17%.
The end of the transition period looks set to usher in a potential raft of new import/export rules and licences and manufacturing and supply-chain requirements. Despite this, vacancy levels in engineering appear healthy, up 18.5% year-on-year, with a slight uplift in the ratio of engineering to all scientific and technical positions (5.1% compared to 4.2% a year earlier). There is a sea change however, and the UK Biopharma and Med Tech Industry is now at a pivotal point (especially with the scope offered by Advanced Therapy Medicinal Products and more 'Complex Medicines'), coupled with global challenges and opportunities to regain the UK's position as the leading country for medicines development and manufacturing. With a focus on not only new molecules but also the novel associated manufacturing technologies to better meet the needs of our patients, there is a huge opportunity to improve and re-engineer existing manufacturing processes focusing on and developing innovative emerging technologies, tools and techniques to reconfigure and extend the current chemistry of 'established' medicines. To be on track with this we have to look at the whole end to end supply chain and integrate various parallel 'game changers' including digital, automation and advanced diagnostics and analytics.
So, what would be the greatest threat on the horizon for engineering within life sciences? The future depends on a sufficient number of students studying the science, technology, engineering and mathematics (STEM) as this is vital to facilitate the discovery of the advanced technologies and treatments that will shape the future success of the UK's pharmaceutical and biotechnology sectors and cement the part that the UK plays on a global scale. The UK is falling behind Europe in nurturing the students who could fill these highly skilled scientific roles. Despite the number of UK undergraduates studying STEM subjects increasing by 16% over the last decade (compared to an overall increase across all subjects of 13%), undergraduate numbers for EU students increased by 52% and non-EU students (worldwide) increased by 63%. As is often the case we have fallen behind the curve on getting skills to meet requirement. Additionally, many Biopharma companies simply no longer train or expect to train graduates or offer the required volume of apprenticeships required. Perhaps we think highly skilled talent falls from the magic skills tree? Moving forward as a country perhaps Corporate Social Responsibility should be firmly anchored to the development and investment in the skills required for our workforce in both development and cross skill initiatives."