​Reading is one of the oldest pastimes that historians believes dates as far back as 1800 BC, marked by surviving tablets such as the infamous Epic of Gilgamesh, an epic poem from ancient Mesopotamia, regarded as one of the earliest surviving forms of notable literature.
Over time reading became to be less considered a hallowed aspect of religious responsibility and became a favoured past time and method of escapism. With many treating the next instalment of Sherlock Holmes much like how you see the latest marvel movie treated today.
However, despite the new inventions of technology such as TV and mobile phones threatening the popularity of this past time, reading is still considered as popular as ever.
A report from 2020 by YouGov stated that 76% of Adults surveyed read books, 19% of which read everyday for leisure, and despite the fear of e-books taking over traditional paperback books, only 24% read e-books and 8% listen to audiobooks.
When considering the current pandemic and the lockdowns many of us have experience it has been no wonder that reading has been on the rise.
Another survey by the Aston University for the "Lockdown Library Project", noted that over half their respondents were reading more than normal, and around a further 60% or so were discussing reading with others. Possibly indicating book clubs were on the rise. Understandable, considering the ease of hosting a meeting online whilst giving social groups a topic to discuss.
Reading also has a whole host of benefits, for instance regular reading has shown to:
improve brain connectivity

increases your vocabulary and comprehension

empowers the ability to empathise with others

aids in sleep readiness

reduces stress

lowers blood pressure and heart rate

fights depression symptoms

prevents cognitive decline as you age

contributes to a longer life
And with 2021 just starting, now is an excellent time to pick up a new hobby such as reading, not to mention it is a great well to develop yourself too.
Below is a list of suggestions to help with your own personal development this coming year, a mixture of fiction and nonfiction, many of which have been referred to as a "life changing read":
Nonfiction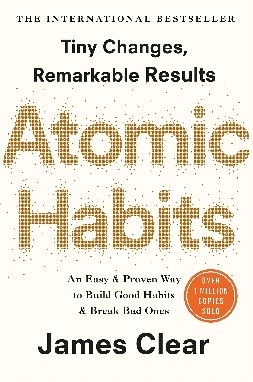 Atomic Habits - James Clear - James Clear, one of the world's leading experts on habit formation, reveals practical strategies that will teach you exactly how to form good habits, break bad ones, and master the tiny behaviours that lead to remarkable results.
A Life on Our Planet: My Witness Statement and a Vision for the Future – David Attenborough – National treasure Sir David Attenborough discusses the planets declining biodiversity, how it came to be and how it can be put right if we act now.
The Subtle Art of Not Giving a F*ck - Mark Manson - In this generation-defining self-help guide, blogger Mark Manson cuts through the noise to show us how to stop trying to be "positive" all the time so that we can truly become better, happier people.
Pig Wrestling: The Brilliantly Simple Way to Solve Any Problem… and Create the Change You Need by Pete Lindsay -Pig Wrestling is a simple story with a powerful message. Read it in under an hour, and you'll be ready to tackle any type of sticky situation in work or life.
Happiness Trap – Russ Harris - Dr Russ Harris, reveals how millions of people are unwittingly caught in the 'The Happiness Trap', where the more they strive for happiness the more they suffer in the long term. He then provides an effective means to escape through a ground-breaking new approach based on mindfulness skills Mindfulness is a mental state of awareness, openness, and focus
Why We Sleep: The New Science of Sleep and Dreams – Matthew Walker -Professor Matthew Walker explores twenty years of cutting-edge research to solve the mystery of why sleep matters. Why We Sleep delves in to everything from what really happens during REM sleep to how caffeine and alcohol affect sleep and why our sleep patterns change across a lifetime, transforming our appreciation of the extraordinary phenomenon that safeguards our existence.
Sapiens: A Brief History of Humankind - Yuval Noah Harari - Yuval Noah Harari explores who we are, how we got here and where we're going. Sapiens is a thrilling account of humankind's extraordinary history - from the Stone Age to the Silicon Age - and our journey from insignificant apes to rulers of the world.
​
Fiction
Normal People - Sally Rooney - When they both earn places at Trinity College in Dublin, a connection that has grown between them lasts long into the following years. This is an exquisite love story about how a person can change another person's life - a simple yet profound realisation that unfolds beautifully over the course of the novel.
The Alchemist - Paulo Coelho - Every few decades a book is published that changes the lives of its readers forever. This is such a book – a beautiful parable about learning to listen to your heart, read the omens strewn along life's path and, above all, follow your dreams.
Sense and Sensibility – Jane Austen - Jane Austen's subtle and witty novel of secrets and suppression, lies and seduction, brilliantly portrays a world where rigid social convention clashes with the impulses of the heart. It tells the story of two very different sisters who find themselves thrown into an unkind world when their father dies.
Ask the Dust - John Fante - Ask the Dust is an unforgettable novel about outsiders looking in on a town built on celluloid dreams, as Arturo Bandini arrives in Los Angeles with big dreams. But the reality he finds is a city gripped by poverty.
Naïve. Super - Erlend Loe - Troubled by an inability to find any meaning in his life, the 25-year-old narrator of this deceptively simple novel quits university and eventually arrives at his brother's New York apartment. In a bid to discover what life is all about, he writes lists. He becomes obsessed by time and whether it actually matters. He faxes his meteorologist friend. He endlessly bounces a ball against the wall. He befriends a small boy who lives next door. He yearns to get to the bottom of life and how best to live it. Funny, friendly, enigmatic and frequently poignant - superbly naïve.
The Curious Incident of the Dog in the Night-time by Mark Haddon -Christopher is an intelligent youth who lives in the functional hinterland of autism--every day is an investigation for him because of all the aspects of human life that he does not quite get. When the dog next door is killed with a garden fork, Christopher becomes quietly persistent in his desire to find out what has happened and tugs away at the world around him until a lot of secrets unravel messily.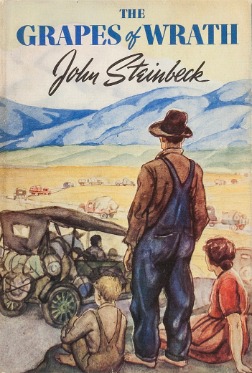 Grapes of Wrath – John Steinbeck - Shocking and controversial when it was first published in 1939, Steinbeck's Pulitzer prize-winning epic remains his undisputed masterpiece. Set against the background of dust bowl Oklahoma and Californian migrant life, it tells of the Joad family, who, like thousands of others, are forced to travel West in search of the promised land.
Americanah - Chimamanda Ngoze Adichie - Fearless, gripping, spanning three continents and numerous lives, the National Book Critics Circle Award-winning 'Americanah' is a richly told story of love and expectation set in today's globalized world.
The Monk Who Sold His Ferrari - Robin Sharma - An internationally bestselling fable about a spiritual journey, littered with powerful life lessons that teach us how to abandon consumerism in order to embrace destiny, live life to the full and discover joy.
Hopefully this list will give you some inspiration for your next few reads! However, if you are looking for something more career orientated, why not check out the Cpl Insights page? There are many articles that can help, from CV writing to advice for video interviews.
​