​National Workplace Wellbeing Day takes place this Friday 30 April 2021. The purpose is to encourage businesses across Ireland to mark the importance of wellness at work and develop continuous multi-annual programmes to achieve healthier outcomes for teams. Our peoples' wellbeing is our top priority and for this reason, we provide a range of programmes, services and initiatives to help our people be the best they can be. Sample wellness activities we have organised and enjoyed this month include:
30 Million Steps Together
Over 200 people took part in our companywide 30 Million Steps challenge over a 14 day period with progress tracked on our dedicated wellness app and through regular posts on our internal intranet.
For our #30MillionStepsTogether we travelled 22896.13Km together in a fantastic #OneCpl effort. Alongside a great morale and wellness boost, we donated €500 to 3 charities from the charities chosen by our people in addition to the winning team's charity receiving €1000.
These charities were picked at random through a live wheel reveal.
​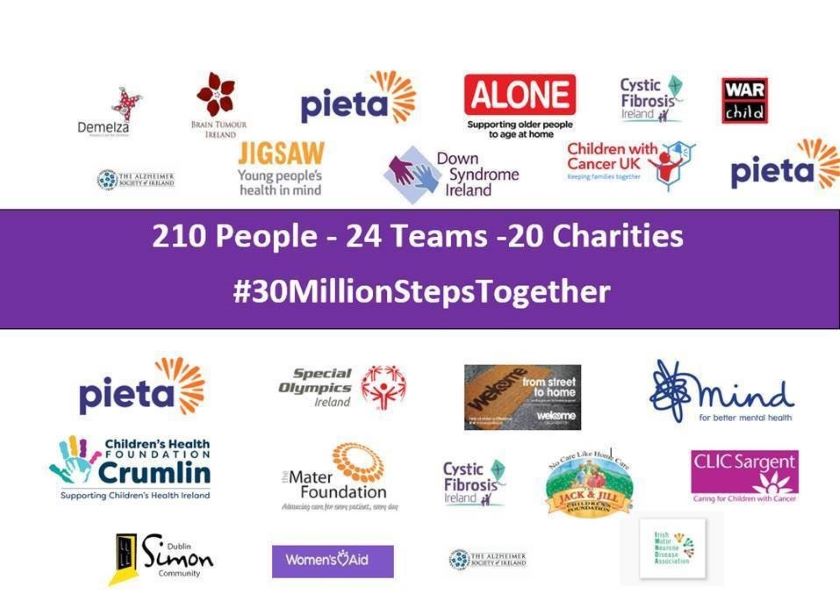 Virtual Café
Our Virtual Café has been open for over a year now and asks our people to sign up and be paired at random with a colleague every second week for a coffee and a chat. A great way to keep connected remotely.
Mental Health Champion Training
We are delighted that another 20 employees completed the Zevo Mental Health Awareness Training this month meaning over 200+ people within Cpl have been trained so far! Delivered by Avril Ivory from Zevo Health this valuable training equips people with the knowledge of a range of mental health illnesses, enabling the recognition of common signs and symptoms either during a mental health crisis or during the development of a mental health illness. 100% of past attendees would recommend this training to a colleague.
Gratitude Challenge
Team members were tasked with practising 14 days of gratitude by actively listing things they are grateful for daily. Anyone who posted an update on Gratitude using #[email protected] on the Cpl intranet was then added into a draw.
Other ongoing initiatives include our monthly photography competition, mindfulness & meditation and a range of webinars and seminars including a financial wellbeing webinar on The Importance of Financial Planning Virtual Talk with Bank of Ireland.
If you're interested in learning more about working at Cpl or our wellbeing initiatives visit the Join Cpl page.