People decide to leave their jobs for a wide range of reasons. Some are motivated by better working conditions, a shorter commute, and a better work-life balance, for others it is promotion, title, money, and career progression or it could simply be the role is not challenging enough anymore.
Regardless of the why, losing a valuable employee is a hit employers do not want to take. Especially in a market experiencing a growing talent gap. Faced with the potential loss of a key team member, many managers are keen to offer a counteroffer to try and entice the employee to stay. In fact, according to a recent study, 67.5% of managers propose counteroffers.
A good counteroffer should address the reasons someone is leaving in the first place. It could include, better working conditions, a significant pay rise, a promotion, or other perks and benefits.
For many employees, their mind is made up, they are leaving, and nothing will sway them. However, if considering the counteroffer, weighing up the options, and reassessing whether to stay or go is on the table, read on.
Reassess why you want to leave your current job
As previously mentioned, employees' needs have changed dramatically over the last two years. The changes brought on by Covid are here to stay and the talent market favours job seekers. Employee expectations have grown, and, in many cases, employers are behind the curve in meeting needs. Not meeting these needs is the number one factor employees quit their job. According to LinkedIn, the top three reasons are work-life balance, pay and benefits, and workplace culture. Assess which of these best describes the reason for leaving and see if a counteroffer can meet the need.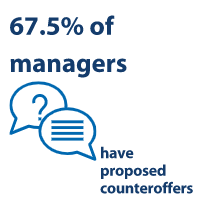 Work-life balance
People now expect to work in a culture that respects and encourages work-life balance, an environment in which clocking out is not seen as a negative requires work and reinforcement throughout an entire company. Our Future Working Report found that post-pandemic when looking for a new job the importance of a better work-life balance outweighed compensation. Work-life balance is more than allowing people to work from home and introducing flexible work arrangements. It requires a cultural shift. If expectations around working late and putting in extra hours are a factor in looking for a new job, can a counteroffer really alleviate this concern?
Pay and benefits
The talent market currently favours candidates, and the talent gap has employers scrambling to fill vacancies. The struggle to fill roles inevitably leads to increased pay and benefits on offer for new joiners. From a current employee's perspective, it can be frustrating to see job ads for positions similar to your own with a higher salary. If pay is a contributing factor in handing in a letter of resignation, a counteroffer with an increased salary could be a deciding factor. Employees can leverage their current offer to influence and negotiate an increase. Benchmark your salary with Cpl's Salary Guide Calculator.
Workplace culture
Similar to work-life balance people want to work in a positive environment. According to research, toxic culture is one of the main factors driving the Great Resignation. A toxic workplace can often lead to an atmosphere of disrespect amongst team members. It can be extremely difficult to work in an environment where you are not treated fairly, productivity levels are likely to be down and stress levels high. When faced with a counteroffer from an employer encouraging a toxic workplace it's important that the employee verbalises the issues they had in the past. If there is an ongoing issue with respect in the workplace, is it likely a counteroffer of a promotion or pay rise will change the environment? There is only so much that can be changed by a counteroffer and in that case, it could be better to move on forward and into a new chapter. Company reviewing sites such as Glassdoor are a fantastic resource for jobseekers to get insider information on the culture within an organisation.
Unfortunately, there can be negative consequences to accepting counteroffers. Even in teams with a healthy workplace culture egos can get bruised and unfortunately, relationships can be affected. When an employer finds out that an employee has been looking for other positions this could add a feeling of disloyalty to the team. In fact, 67% of HR (Human Resources) leaders would question the employee's reliability in the future.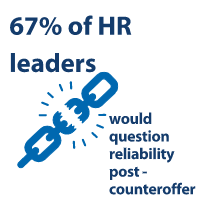 On the other side, respect should be shown to the prospective employer. If a counteroffer is proposed, transparency during the negotiations can lead to a smoother transition no matter what the outcome. It should be noted that from a prospective new employer's point of view, they have spent time interviewing and, in some cases, introducing someone new to their team. Time invested that has led to nothing can be a huge disappointment for Hiring Managers.
Conclusion
55% of people accept their employer's counteroffer, with the most popular reasoning being 'familiarity and comfort' of keeping the same job. Deciding between a new opportunity and a better version of your current job can be tough. Based on data from CEB, 50% of those who accept a counteroffer leave the company within 12 months. The most important thing for an employee to do is to take their time before accepting. Think about what would be most beneficial in the long term.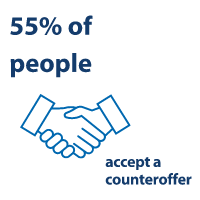 Counteroffers are a normal part of the recruitment process; our specialised consultants deal with counteroffers regularly and are happy to guide and advise you. Learn about our current opportunities or contact the Cpl team today.
​Sources: