​Having the best talent gives you an advantage over your competitors. However, not every organisation is in a position to simply put a request into HR and get a stream of highly qualified candidates in the door.
Sourcing the right candidates is hard, sifting through mountains of CVs (Curriculum Vitae), pulling top-quality talent is difficult, and interviewing applicants takes time. Not all organisations or HR departments are set up to handle the hiring of specialised talent, or to ensure that they offer they make will retain new talent. They do this for a variety of reasons. A large organisation can easily hire for BAU positions, but what about those key revenue and decision-making roles that account for the majority of growth?
Organisations looking to expand, whether into an unfamiliar market or because of increased funding, need to scale rapidly. Internal HR functions are not designed to handle this type of expansion. And start-ups need to focus their energies on developing services, not on managing talent.
That is why 90% of companies turn to talent solution providers to help with the hiring process.
Talent agencies have large candidate pools within their databases, and a network of contacts to tap into when sourcing potential hires. They provide several different services, from the traditional recruitment pillar to RPO (Recruitment Process Outsourcing) and MSP (Managed Services Provider) services. However, let's focus on the recruitment pillar and see how and why working with a talent agency is a must for any hire.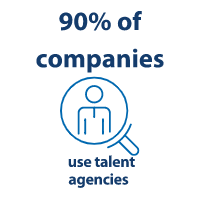 Recruitment Service Expertise
Talent agencies have teams of specialised recruitment consultants who know the market, they know how to reach candidates for the most specific of roles. Once sourced, consultants screen candidates to ensure they meet the right criteria for the interview process. They know what pay and benefits candidates are looking for and how to tip the scales in a client's direction during salary negotiations. And they do all this, in a timely and efficient manner.
With the growing talent-gap and the ever-increasing complexity of the HR function, it's getting increasingly difficult to bring the right people in quickly and efficiently. In the current environment, the expertise of a well-developed talent agency is immeasurable.
Recruitment Service Hiring process
According to LinkedIn, the time it takes to fill a role can be anywhere from 31-48 days and longer (an average of 56 days) for larger companies. However, top candidates are only in the job market for an average of 10 days, meaning traditional hiring processes can see them walking away from lengthy and overtly complex interviews.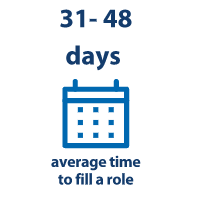 Talent solution agencies provide specialised recruitment services which get the right people in front of the hiring manager quickly. They have sector-specific talent consultants who understand the hiring landscape and have access to large talent pools and a network of contacts. They understand the needs for specific roles and target top talent quickly. They can also confidently fast-track the interview process for the right candidate.
By attracting top candidates promptly, talent agencies not only reduce the time to fill but the cost to fill a role. While there are costs for hiring a talent solutions provider, using their professional services to find top-quality candidates in a short time period, reduces recruitment costs. By sourcing quality candidates, agencies reduce the likelihood of a company making a rash decision and reducing the hiring quality to fill the position. A low-quality hire can lead to higher costs. The best-case scenario is having to re-hire for the same role within a brief period, the worse is a low-performing employee, the price of a bad hire is at least 30% of the employee's first-year earnings.
Employee Value Proposition
​As an outside observer with critical industry knowledge around talent needs and expectations, recruitment consultants can uncover unacknowledged aspects of a client's EVP (Employee Value Proposition). Recruitment consultants learn about their client's talent-focused USPs (Unique selling points) such as flexibility, WFH (Work from Home), L&D (Learning and Development), and employee health & wellness programmes, etc. Their industry knowledge allows them to compare competitor offerings and highlight unique and coveted USPs to prospective candidates. This piques interest in the client and leads to greater candidate engagement.
Recruitment Services Retention
Job tenure is in decline. The glut of available roles and the influx of multinationals, which offer above-average remuneration packages, see employees' heads being turned by better terms. Increased churn can have a dramatic effect on a business, remember that 30% cost of a bad hire? It's the same cost to replace a good employee (Not to mention the morale and knowledge drain knock-on effects). Reducing staff turnover justifies any cost outlays for a good talent solutions provider. This in-direct, but key service is anchored in market analytics and expertise. For example, a sector-specific recruitment consultant will know the right salary to entice a candidate to accept an offer and stay with the company.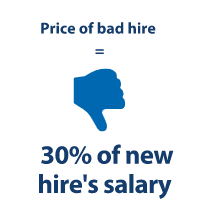 Salary Benchmarking
​A consultant's market knowledge is vital when it comes to salary benchmarking. Proper benchmarking helps companies make informed decisions around remuneration, which will help them retain talent for longer. Employees care about benchmarking because it clarifies whether they are being paid their market value. A candidate who sees a role listing on or above the salary average in their profession is more likely to be attracted to apply for a position, accept a job offer, and to stay in the role for longer. And remember, retention is about more than money, it affects morale and company skills list and knowledge bank. For employees, money isn't the only reason to jump ship and consistent churn can indicate a toxic work culture.
Benefit Benchmarking
People want more than just a decent salary; they are looking for the whole package. In fact, The Future of Work Institute found that a better work-life balance with the option to work remotely now outweighs compensation and career progression as a reason to change roles. Recruitment consultants are in the perfect position to understand exactly what potential and current employees are looking for when it comes to benefits. And while each package should be tailored to individual needs, understanding the market is essential to correctly hitting the mark and retaining valuable talent for longer. You can get an idea of some of the more in-demand benefits in the Cpl Salary Guide | 2022
Conclusion
People are at the heart of everything a talent solutions provider does. It is important for the agency to build up a relationship with their client so that they can ensure trust throughout their partnership. Building up this relationship can mean that over time, as a business grows, the talent agency can grow from providing recruitment assistance on a role-by-role basis to being a fully integrated HR partner who helps the business grow and strengthen.
At Cpl, our specialist recruiters work with companies of all sizes, from innovative start-ups to large multinationals, providing recruitment services, training, and partnerships. For more information on our services, get in touch, email: Info@cpl.ie
Sources: