​6 Valuable Career Tips for Graduates
After years of study, you've made it! Congratulations and welcome to the working world. Entering the workplace can be exciting but daunting at the same time. Here are our top tips to help you make the switch from student to staff, and kick-start your career.
Write your CV
Your CV echoes what you have learned during your academic years and represents the crux of your capabilities. In 2020, 43% of companies said they rely on CV screening alone to find their candidates for an interview shortlist. The importance of a well-drafted CV cannot be stressed enough. A graduate's CV should be professional and include relevant grades and experience earned throughout their degree.
Graduates can also include a link to their LinkedIn profile to help the employer learn a bit more about previous experiences. It's important to remember that building a CV is a continuous process. Even after you land your first job, keep updating your CV to reflect progression in your career by adding new responsibilities, tasks, and accomplishments.
Prepare for job interviews
Interviewing as a new graduate can be tough. Especially if you have never had a job interview before. Research the company's background prior to an interview. The more you prepare and show your interest in the role and your qualifications, the greater your chances will be of progressing to the next stage and receiving a job offer.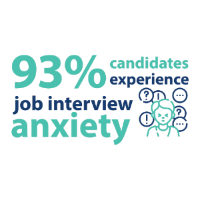 Interviews are frequently seen as 'high-stakes' situations that might create anxiety. 93% of candidates admitted to having experienced job interview anxiety at some point in their career. Try not to get too stressed before an interview; every experience is a chance to learn. These are the learning curves that will help you define your career path. If you're looking for more interview advice, read our blog on how to succeed in your next job interview.
Update your LinkedIn profile
Employers rely on social media to learn more about a candidate now, than ever before. In fact, 91% of all employers are currently using social media as part of their hiring process. Use your LinkedIn profile to build a positive online presence by creating and sharing professional content related to your chosen specialised sector. Connecting with others in your field of interest and posting regularly on trending topics in your sector will help portray yourself as an expert. LinkedIn also allows you to request recommendations from professors and peers and has numerous groups open to everyone.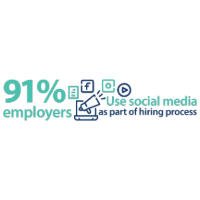 With information being so widely available on social media, it's advised for jobseekers to take extra care with their personal platforms.
5% of recruiters have canceled a job interview because of a candidate's social media. Make sure to delete any debatable or offensive content. Employers can easily reject a graduate candidate based on controversial posts seen on their social media. If you think your social media accounts could impact your job opportunities, make sure your privacy settings are on.
​Continue your learning and development
Learning doesn't stop after graduation. 76% of Gen-Zers believe learning is the key to a successful career, and they aren't wrong. Attending conferences and workshops can help you develop job and soft skills. Keep up to date with developments in your fields of interest and continue to improve your skills in these areas. If you're made aware of a certain gap in your knowledge that is required for jobs you are interested in, try to bridge that gap yourself. One way of doing this is using free online learning resources available such as Udemy and Alison.
Some organisations may also offer internal learning and development opportunities. This can be mentioned during the interview process.
It's critical for graduates to realise that the job they choose after graduation is merely the first of many. Don't limit yourself if you want to change careers. There's nothing wrong with working in several sectors to discover your areas of interest and expertise.
​Build your network
For graduates looking for work, having a strong network of friends, family, and peers in their industry can be quite helpful. It's not just about what you know when it comes to getting a job; it is also about who you know. Look out for social networking events, seminars, or even volunteering programmes to connect with people.
Another advantage to having a strong network of connections is the chance of getting a job referral. Those who are referred are 13 times more likely to be hired than online applicants. Ask for referrals if you know someone in your social circle who works for a company that has a suitable job vacancy.
Seek out a Professional Mentor
Mentorship is one of the most underrated aspect of laying the groundwork for a career. A professional mentor is 'someone who acts as an advisor to a less experienced individual'. Typically, graduates seek mentors who work in their same or desired field. The advice you can get from a mentor is invaluable, and their ability to help you navigate the unknowns of the workplace is what makes them so important.
Finding and sustaining a relationship with a mentor with more experience is a huge competitive advantage. Learn from your mentor's experiences and insights, ask for constructive feedback, and use their knowledge to help you grow and progress in your career.
Conclusion
The thought of transitioning from graduate to employee can be overwhelming. Use our advice to help you begin your journey. Every experience will be new. Every encounter will be unique. But this is only the start of the adventure.
Being a recent graduate and exploring the job market can be challenging, but we are here to help. Check out our job hunting toolkit for all the job seeker essentials in one place. Or submit your CV to our database, and we'll reach out to you when suitable opportunities arise.
Sources: