​
Cpl's RPO solutions offer your business agility, market expertise, access to transformational technologies and best practise honed through 20 years of experience, so you can focus on other core areas of your business and respond to the fluctuating economic climate.
Our four recruitment process outsourcing solutions are based around the principles of talent experience and client experience underpinned by the power of digital transformation.
They have been specifically created to keep your business competitive while reducing time to hire, maximising channels to talent, managing costs and enhancing the overall candidate experience. This is the future of work today.
Led by our expert Enterprise Solutions team, Cpl's RPO solutions flex with your business as it evolves. Whether you're a multinational organisation or a start up in a state of flux, we will enter a shared journey of trust with you. We listen, we question, and we work together to create tailored RPO solutions.
Our suite of offerings is modular in design, meaning they are available to meet your strategic needs when you need them. These are aligned to the employee experience and proposition that distinguishes your company as a destination for great talent. Whatever RPO type you choose, our teams will integrate seamlessly into your organisation and act as your internal recruitment function within the agreed scope.

Book Complimentary Consultation
​
​RPO Recruitment types to suit your needs
We offer four customisable and fully scalable RPO solutions.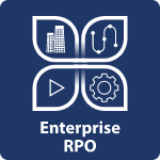 ​Our fully scalable end-to-end Enterprise recruitment solution brings together the best in people, processes and technology. Enterprise can include all or part of the process – it's up to you.
Sample elements include talent mapping, talent sourcing & attraction, candidate engagement, interviewing, offer management and onboarding. We will work with you to find the best solutions and co-create an RPO that meets your talent needs and strategic goals.
​
Our short to medium term RPO offering is best suited to start-up, ramp-up or project hiring needs. Our Project consultants will work with you to develop a solution that covers all or part of the recruitment process. Either way, this will fit in with your current talent acquisition teams and strategies with zero disruption.
We have 20 years of experience running successful Project RPOs, sticking to strict deadlines and delivering cost-efficient results. We know how transformative a good RPO can be to a company and depending on the scale of your needs we can build a solution that provides onsite and offsite support, with the bandwidth to scale up and down rapidly.
​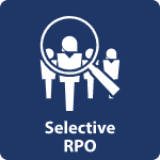 ​Our Selective offering allows you to choose the support your company needs. Simply choose the part or parts of the recruitment process you need to outsource, and we'll provide the best solutions. Examples of past Selective RPO solutions include sourcing and screening, onboarding or pipeline and candidate assessments. This solution is really successful at supporting volume or niche hiring.
​
​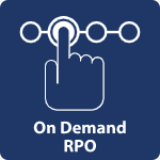 ​On-demand gives you the flexibility to add to your internal HR and talent resources so you can properly support spikes in hiring, business initiatives or process support. On-demand gives you immediate access to skilled recruitment & sourcing professionals without process or technology implementation. This means you can choose when or for how long you want the service for. Timelines can vary from a few weeks up to a few months and once the assignment is finished our consultants will rapidly scale down.
​
​
What are the benefits of RPO?
Cpl's outsourcing recruitment is ideal for organisations that aren't sure what they want but know they need support in order to grow.
Our model is ideal if you have a mix of short-term needs, customised requirements or larger scale end-to-end hiring. Key benefits include greater flexibility, reduced costs, improved compliance and reporting, improved employer brand and an exceptional candidate experience.
Our teams offer unrivalled industry expertise and a focus on transformation driven by our Core Values, long-standing industry relationships and access to leading technologies. Read our Case Studies to learn more.

​
Total Talent Management
Total Talent Solutions (TTS) brings our full range of permanent, contingent and talent consultancy solutions together to fully support your business strategy. Our modular approach enables us to easily adapt our RPO and MSP programmes to provide you with the supports you need, when you need them, including recruitment design and delivery, employer branding, learning & development, data and analytics, strategic workforce planning and talent technology. For more information get in touch to organise a consultation with one of our Enterprise Solutions specialists.

What you can expect when working with Cpl Enterprise Solutions
At the core of any solution development is you, our client. Through a unique Enterprise solutions approach, that we call FACT, we delve deep into your needs, your ways of working and the experience you're looking to create by working with us.
​
How does the Fact Approach work?
F: Fully understand the key strategic and associated talent challenges of your organisation
A: Ask the difficult questions and fully explore the potential competitive implications of the various recruitment process outsourcing models appropriate to your challenges
C: Co-craft a RPO solution to ensure the most impactful design possible and associated key solution elements
T: Take a short, medium, and long-term view with the provision of a best in class account management approach that ensures the on-going relevance of the solution through appropriate evolution, adaptation and supplementation
​
Working with our multidisciplinary team
Every organisation is unique. To meet your companies needs our Enterprise Solutions team is made up of a multidisciplinary group including Sourcing Specialists, Acquisition Specialists, HR Experts, Experience Designers, Strategic Consultants from our Future of Work Institute, Process Improvement Leads, Strategic Account Managers and Talent Technologists.
​
This multi-disciplinary team act as an extension to your talent and leadership team, a unique resource available throughout the lifecycle of our relationship. The team ensures your enterprise solution always remains relevant, even in the face of evolving requirements, or significant external or market changes.
More than just Outsourcing recruitment – Modular Solutions
Due to the broad spectrum of services and capabilities, the Enterprise Solutions team can supplement any core talent solution (RPO or MSP) with suitable services as needed. We call this 'Modular Solutions'. Our teams have deep expertise across core People, Strategy and Technology modules. These can be accessed at any time. Sample Modular Solutions include:
As a 'Client First' Enterprise, we're cognisant of where clients are on their development journeys. We meet the needs of companies as they mature & grow and their level of readiness for different services.
​
It's all about the experience
The client and candidate experience are key factors within Cpl as a 'Transformational Talent Experience' business. All services will have a laser focus on the total experience of the client, their candidates and our employee teams. The experiences will be designed for maximum impact and engagement.