Managed Service Provider
Employees across all generations are rapidly moving from traditional career paths to more experience led careers. To stay relevant, organisations need to be able to manage blended workforce models that strengthen their own strategic goals and the career journeys of independent talent. Whether your business is scaling, internationalising, cost-conscious or facing complex strategic talent acquisition challenges, Cpl's Talent Evolution Group will bring together the solution elements you need to stay ahead of your competitors and relevant in today's market.
​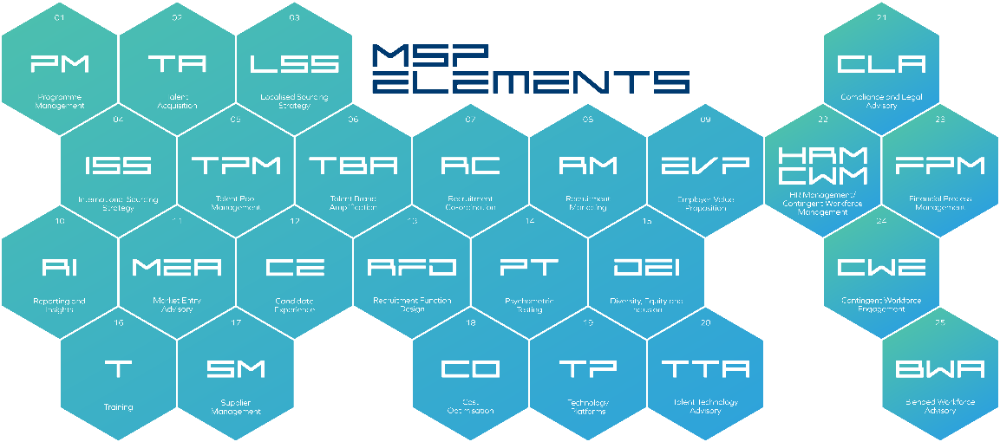 Our managed service provider (MSP) solutions support temporary, limited company contractors, statement of work (SOW), temp to hire, and all other complex contingent hiring needs your business may have. Our programmes focus on providing access to skilled talent on demand, bringing full flexibility to your business. Led by our multidisciplinary MSP teams of Programme Management, HR, TA, Recruitment and Analytics, Talent Evolution Group's MSP solutions flex with your business as it evolves. Whether you're a multinational organisation or a start-up in a state of flux, we will enter a shared journey of trust with you. We listen, we question, and we work together to create tailored MSP solutions based on the elements you need. Our suite of elements is modular in design, meaning they are available to meet your strategic needs when you need them. These are aligned to the employee experience and proposition that distinguishes your company as a destination for great talent. Our MSP programmes can be end-to-end, hybrid or neutral and are all built on our value management pillars of Relationship, Quality of Service, Cost Management, Compliance and Talent Consultancy.
​​Managed Service Providers Value Management Pillars
​Our MSP's are built so we can ensure value to your business throughout the lifetime of the solution. We make this possible through our five value management pillars.
​1. Relationship: We have a Strategic Account Management approach which means we get a deep understanding of every client's goals, needs and challenges. At every step, there is a focus on the experience of all stakeholders. We take pride in our first-class candidate experience and ensure the full employee experience is nurtured, from awareness through to exit. Our talent is your talent.
2. Quality of Service: Our teams deliver the highest standard of service every time. We ensure this through a high level of communication and 20 years of talent experience and expertise. Our teams go beyond meeting transactional KPIs and SLA's to a partnership model that is innovative, strategic, continuously improving and truly transformative.
3. Cost Management: Each MSP programme has a dedicated delivery team ensuring lower programme costs for every client. We use advanced technologies to maximise automation and provide swift analytics to drive business decisions and minimise costs without compromising on quality. All of our MSP solutions offer transparent visibility of contingent workforce spend across multiple vendor types and continually work to identify any unnecessary spend.
4. Risk & Compliance: We are stringent in our approach to governance, visibility, compliance and risk mitigation. All our MSP programmes have dedicated governance teams that focus solely on contingent worker compliance; legislation adherence; HR and employee relations management; robust IT systems, cybersecurity, and business continuity; vendor, contractor, SOW contract review, and management.
5. Talent Consultancy: We want to fully support your business. To do this we include elements of our talent consultancy in our MSP programmes as needed. This approach makes sure you have access to the best talent processes, expertise, and talent strategy in one integrated service.