Recruitment Process Outsourcing
We recognise that businesses require RPO (Recruitment Process Outsourcing) support to meet a wide variety of talent challenges and can be based on long-term goals or short-term needs. Our fully scalable end-to-end RPO solutions bring together the best in people, processes, and technology Elements to design a solution for your needs today and evolve as your needs change. Sample elements include talent mapping, talent sourcing & attraction, candidate engagement, interviewing, offer management, and onboarding. We will work with you to find the best solutions and co-create an RPO that meets your talent needs and strategic goals.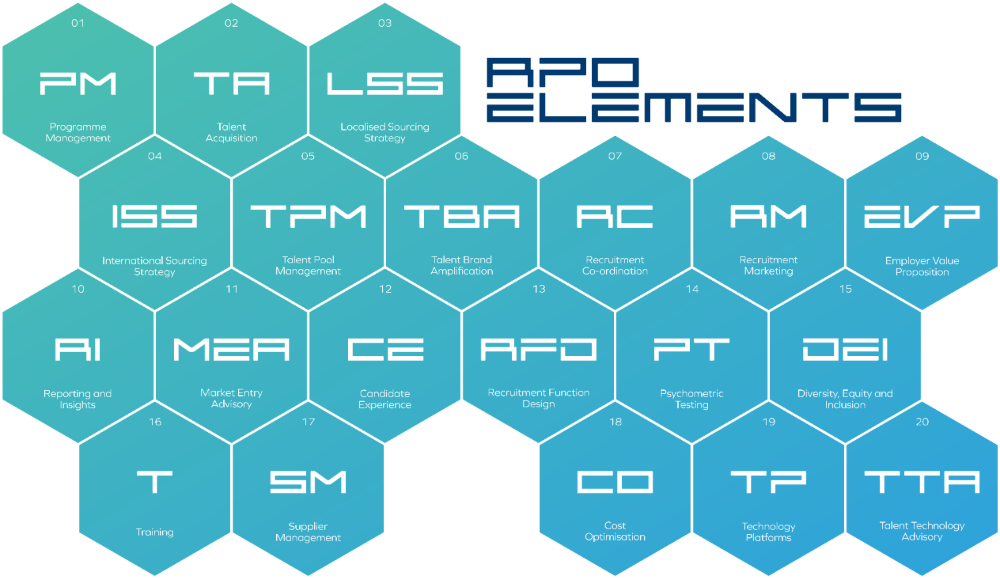 Project RPO
Project RPO's are frequently required to meet your short to medium term talent challenges. They are best suited to startup, ramp up or project hiring needs challenges. For project RPO's we frequently combine agile and flexible talent acquisition with localised and international sourcing strategies elements to meet your scaling goals.
​Selective RPO
We recognise that many businesses require specific solutions for ongoing support to key recruitment and talent functions. This allows you to focus on your overall talent strategy. We listen to your needs and co-design a programme of talent elements that is robust in design and sustainable long term.
​Embedded Talent Acquisition RPO
We have developed an Embedded TA implementation and ramp up model that enables us to integrate into your existing TA team and processes with minimal disruption and immediate benefit. Our Embedded TA models are purposefully designed to allow us to scale up and down rapidly or bring in new skillsets, capabilities, or service Elements to evolve your solution as your needs change.
What are the benefits of RPO?
Cpl's outsourcing recruitment is ideal for organisations that aren't sure what they want but know they need support in order to grow. Our model is ideal if you have a mix of short-term needs, customised requirements or larger scale end-to-end hiring. Key benefits include greater flexibility, reduced costs, improved compliance and reporting, improved employer brand and an exceptional candidate experience. Our teams offer unrivalled industry expertise and a focus on transformation driven by our Core Values, long-standing industry relationships and access to leading technologies.
​