The job market is booming and you're looking for a new challenge. Before the job hunting begins, the first step a job seeker must take is to update their CV (Curriculum Vitae).
As the saying goes, 'first impressions count', and this certainly applies to job searching. A candidate's CV is the first thing a prospective employer sees. A good CV will clearly show a candidate's skills and previous experience, putting their best foot forward for the role.
A personal statement is an engagement piece at the top of a CV. Think of it like the beginning of a novel. Have you ever started reading a novel and after the first few pages or chapters you can't put the book down? You want your CV bio to have the same effect.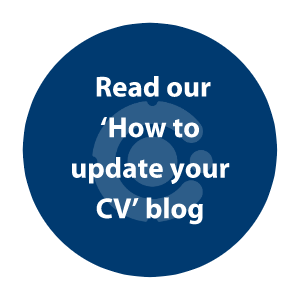 What is a CV bio?
A CV bio is a short (3–6 lines) paragraph about the job seeker, it highlights their expertise, strengths, and skill sets. A CV bio should also highlight relevant education, experience, projects a candidate has been involved with and systems & applications they're proficient with. This small, but mighty introduction can indicate to a hiring manager if a candidate is suitable for the role before, deciding to read the CV in its entirety.
How to write a CV bio
A personal statement should be short and concise. Which can make it seem a bigger task. Here is some important advice from our team.
1. Customise CV bio for every job
Just as recommended for other elements of a CV, a CV bio should be customised per role. A candidate needs to illustrate their suitability and be specific. They should think about what separates them from others and use keywords that will attract the readers' attention. These keywords will also stand out if not being read by the human eye. A Harvard Business School report found that 75% of employers are using ATS (Application Tracking Systems) in their hiring process. Consider using the job description to help configure a CV bio that utilises the keywords mentioned by the hiring managers.
2. Check spelling and grammar
Having spelling mistakes or grammatical errors in your personal statement does not make a good first impression. Ensure you spell check, use short paragraphs, and get someone to read over your CV bio prior to submitting it.
3. Include a CV bio when reaching out to recruiters
If you are submitting your CV to a recruitment agency to be considered for various roles, it's still an advantage to include a personal statement that highlights your skills and experience. Always remember, it is a distinct snapshot of who you are and what you offer to an organisation.
CV Bio Example
We've created an example of a CV bio that incorporates everything we've mentioned above.
Written in the 3rd person listing experience, skill set, and applications they're proficient with.
Intro outlines soft skills and experience - "Highly organised and adaptable Executive Assistant with 5 years' experience supporting C-level executives in the IT sector. Experience with complex travel arrangements, calendar management, processing expenses using Concur, preparing reports and presentations for board meetings, arranging meetings and events, and supporting senior management with ad hoc projects.
Sentence focused on relevant applications - Experience with Microsoft Outlook, Word, advanced Excel, SharePoint and Concur."
Conclusion
A CV bio is the first thing an employer sees when they receive a job application. It's in a candidate's favour to fine tune and customise their CV bio to illustrate exactly why they're the perfect person for the job in just 3-6 lines. Using a roles job description or specification can also be a clever tip to assure your CV is noticed.
If you're starting out your journey to a new job, why not get in touch? If you're looking for extra support on your job hunt, including CV and interview advice check out our job hunting toolkit.
Sources: