My story is no different to the vast number of other coda's (child of deaf adult) in Ireland and throughout the world. It's widely documented that 90% of children born to deaf adults can hear normally. So, like many others, I have first-hand experiences of the inequality, lack of accessibilityand general frustration that deaf people face daily.
I am the eldest of three children with two deaf parents. My Mam was born deaf and my Dad developed measles as a toddler and completely lost his hearing as a result.
Growing up with deaf parents
Throughout my parent's lives they have faced obstacles they have had to overcome. Daily, they encounter situations in which communication can be a major barrier in undertaking the most simplistic of tasks but for as long as I can remember I understood the importance for them to break through those barriers and ensure they are able to live their lives to the fullest of their ability.
From an early age I understood the importance of accessibility, but I also very quickly saw the lack of accessibility for both my parents. As a child I was a tool for my parents to communicate with others. This is a very common dynamic with children of deaf parents and leads to codas acting as interpreters.
I can remember being as young as five or six, going into the bank with my dad and discussing mortgages, going to doctor appointments and pre-surgery appointments with my mam and attempting to communicate medical terminology that the consultant had asked me to share.
This dynamic between a deaf adult and their children can lead to issues of privacy & confidentiality. A lot of the time I would be passing on information to my parents I am sure she would have preferred to have kept to themselves or away from me at such a young child.
With this dynamic I would say I was forced to grow up a lot quicker than my peers. I've always been aware that our family dynamic was different to others and I very quickly was able to understand the importance of accessibility for the deaf community.
I have often been described at times as painfully organised. I think this dynamic with my parents led me to that - It's definitely made me more prepared me for all that lovely paperwork and administration you start to do as you get older! (I was filling out application forms for my parents and booking our family holidays over the phone circa 7 years old.)
The importance of accessibility
My mam is one of thirteen children and is the only deaf child within the family. My granny often tells me that they were told not to learn sign language to ensure Lynda (my mam) didn't become lazy and to drag the speech out of her. To this day the only sign language my granny gives a good stab at is a fresh slice pan (Brennan's Bread), in which she proudly signs the shape of a rectangle – ground-breaking signing.
As you can imagine growing up in a house of thirteen children my mam had to shout loudly to be heard. She refused to be held back by the barriers, that unfortunately and unbeknownst to a lot of people, are faced by deaf people daily.
My mam was always very sports driven. As a child she fell in love with table tennis and spent hours upon hours perfecting her craft. She represented Ireland in the Deaflympics twice (which she likes to remind us of at any chance she gets) in Cologne in 1981 and Los Angeles in 1985.
In 2008, at the 40th anniversary of the Irish Deaf Sports Association she was awarded as the 3rd best female athlete in the history of the organisation (again, something she likes to remind us of at any chance she gets).
My Dad went to St Joseph's School for Deaf Boys in Cabra and like many others in the school was taught a trade to which would be useful to him outside of school and allow him to earn a living. He was very skilled at carpentry and left school to pursue a career. He then very proudly got a job at Guinness and further developed his skill set. For the last 20 years he has been a carpenter in the maintenance department of a major Dublin hospital and last year was promoted to foreman with a team of carpenters under his management.
My dad was extremely nervous about going for this position. It meant a presentation and interview process with a panel and he was anxious his communication skills wouldn't allow him to get his point across and sufficiently show his passion for the role. We spent hours prepping for this interview and he sailed through. A very proud and well-deserved moment for my dad.
​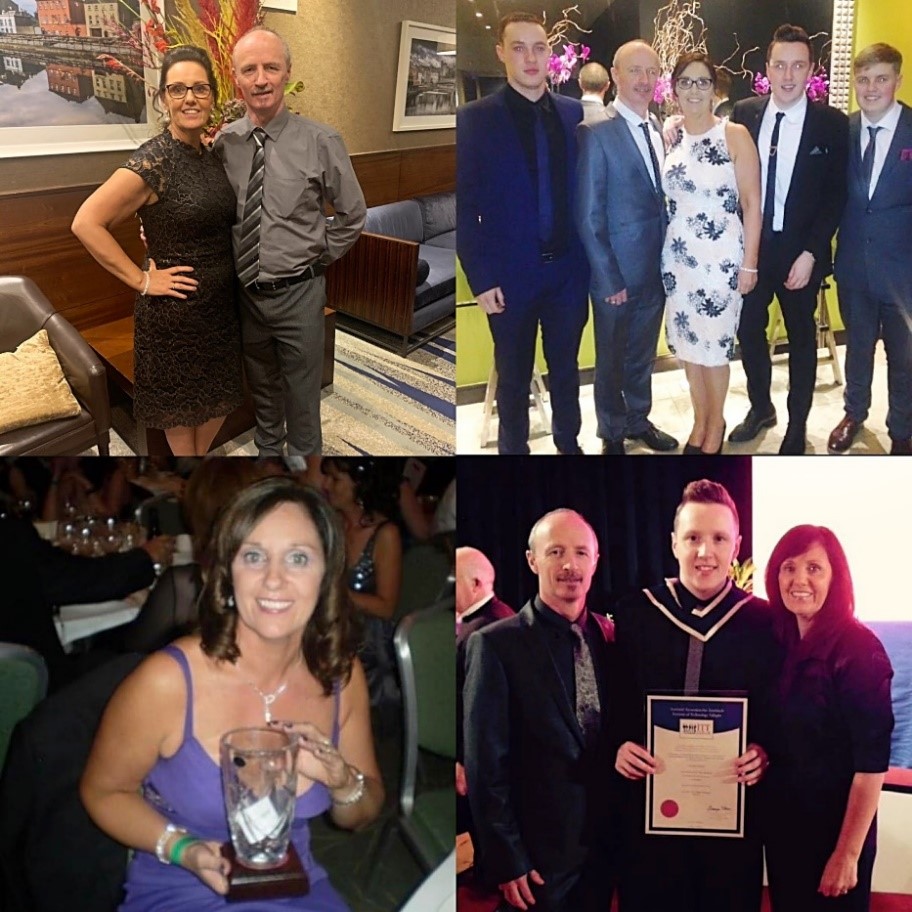 Working as a deaf person in Ireland
Both of my parents have always been extremely driven and once they set their mind to something, they get it done. Most recently they both decided to improve their education, and both now attend separate courses. My mam is undertaking an English course and my dad has enrolled in a Business & English class to improve on his communication skills in a business setting. Something he has been very passionate about since his promotion.
But every day, they encounter small things that take away from their independence. Everyday tasks that may seem small to you and I make a huge difference to a member of the deaf community. Recently a company removed a feature from their online app in which you could report your card missing or stolen.
Although it may seem insignificant to most, to my parents that change automatically took away a form of independence for them. If they now find themselves in a situation where their card is missing or stolen, they now again must rely on myself or my brothers or other friends/family members to call on their behalf.
Although such a small move by a company – It made an impact on a deaf person's life. Continued improvements in accessibly is vital to ensure we are allowing this entire demographic to live a normal everyday life and do tasks for themselves just like everyone else can.
Other things such as TV programs that don't provide subtitles, cinemas with extremely limited selections of movies to choose from, Websites not having an online chat option. Small day to day activities that are not accessible to all.
Deafness is commonly described as "one of the biggest disabilities, but it's an invisible one. It doesn't just affect the deaf/hard of hearing person, it has an impact on hearing communities as well, because communication is the biggest obstacle that deaf people face. Communication is a two-way process, and with a little deaf awareness and understanding, these barriers can be broken down."
Thankfully we are starting to see movements in accessibility for all and it is long overdue. In 2016 The Irish Sign Language Bill was passed by the Oireachtas. The Act will formally commence in December 2020. The act recognises ISL as a native and independent language of Ireland and will result in huge improvements to access for the deaf community.
The act also outlines the need for greater access to education through sign language. Before this act there was no right for deaf people to have an ISL interpreter. As a result, many deaf people were put in situations in which they were either unable to get their point across in serious situations or unable to understand what was going on in the room around them. Imagine sitting in a room being told you had a serious illness, but no one in the room spoke your language nor were you able to understand anything anyone was saying to you.
For the deaf community, recognition of ISL means more legal rights and better access to public services - including education & healthcare. This act is a huge steppingstone for the deaf community and brings huge independence to allow them to take control of many aspects of their own lives. Something that is so long overdue and welcomed.
Accessibility starts with us all. We all need to strive to be more inclusive. To break away from the communication barriers we have become accustomed to.
5 tips for communicating with a deaf person
I asked my parents to share with me 5 Top Tips they would have for someone when they are trying to communicate or encounter a deaf person.
Eye Contact
It will make or break a conversation. Only speak when you have eye contact, even if they are using an interpreter. While you are making eye contact remember they are also lip reading so ensure to look straight on at the person you are talking to.
Don't Be Shy!
Of course, first attempts to chat may feel slightly awkward and you may panic. This will pass as the chat progresses.
Use a Pen and Paper (or type into a phone)
If you were taking a phone number or jotting down an interesting book title or maybe the name of a restaurant someone recommends – What would you do? You would jot it down on a piece of paper or on your phone. Likewise, you can use that to facilitate communication with a Deaf person, there is nothing to be embarrassed about. The most important thing is opening the floor to two-way communication
Take Your Time
Deaf people consider communication an investment of time and effort. Slow down (don't shout – the louder you shout we still can't hear you), take your time and ask for clarification if you need it.
Learn Basic Sign Language
There are so many easy words you could learn that would mean so much to a deaf person when you converse with them. 'Hello, How are you? Please, Thank You, Yes, No.' Kick off with the alphabet and you can spell out anything you want! (I have also just been reminded by them I have been saying for years that I would brush up on my skills and attend a course – 2021, I promise.)
Next time you encounter a deaf person strive to be patient, inclusive, show compassion and try to break through that communication barrier – take out a piece of paper and jot down a note or type a response into your phone. Small moves by us all will continue to break barriers and allow us to be much more inclusive.
In a world that has become so fast-paced we are always rushing onto the next thing. If you have the privilege of chatting to a deaf person. Slow down. Welcome them into your world. Be kind with your time.

"Kindness is the language which the deaf can hear and the blind can see" - Mark Twain
If you would like to find more about incorporating a strong diversity and inclusion policy within your organisation please get in touch, we'd be delighted to advise.