The last 18 months have really shone a light on the importance of employee health and well-being. The recently released ISO45003 Occupational Health and Safety Management: Psychological Health and Safety at Work, predicts even further significance, and even pressure, for employers to provide impactful workplace wellness interventions to mitigate this risk.
Employees are the heartbeat of the organisation and so investment in enabling employees to flourish has been a priority since the onset of Covid-19 and will continue to do so. Organisations will need to move from a one size fits all approach when it comes to workplace wellness to move the dial forward, maintain and attract quality talent and preserve the psychological safety of their employees. At Cpl's Future of Work Institute, we have been exploring workplace wellness trends for employers to contemplate as we move toward hybrid ways of working. You can view our insights in our brochure.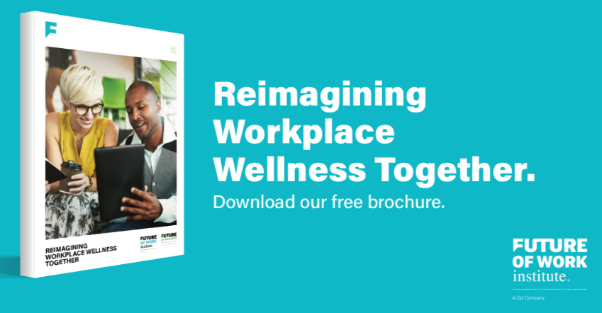 ​Purpose Lead Wellness Strategies
It is predicted that 30% of investment in wellness programmes will be driven by the motivation of strengthening Employer Value Proposition (EVP) and employee experience by 2022. Employers now want to see a stronger return on value (ROV) and how this impacts their attraction and retention strategies as well as engagement and productivity statistics. This is a shift from the previous return on investment (ROI) which focused on improving absence rates and reduced sick leave costs.

A Multi-Dimensional Approach
Chronic stress was rampant even before the pandemic with the workplace, the leading cause. In 2020, we found studies that highlighted a 12% increase rate in burnout from February to April 2020 (Team Blind). In 2021, over 52% of professionals have experienced burnout in the last year. By 2022, we will see a 30% increased focus on mental well-being (Gartner) in the workplace, up from 10% in 2018. Broder dimensions of wellness are beginning to rise, particularly Social Wellness as we strive for more connection and togetherness. Spiritual and Environmental Wellness will also become important as we find purpose and meaning in our new ways of working. Creating healthy working environments that are both physically and psychologically safe.
Hybrid Delivery Options
It is estimated that 40% of wellness activities will be deployed via technology with AI supporting much behavioural change. This will allow for much-needed hybrid delivery options to complement hybrid working models. 2020 has seen many new and emerging wellness technologies emerge. Many wellness activities have had to be driven virtually with group step challenges, cooking demos and virtual yoga classes dominating. This will continue, as wellness vendors and organisations get creative to engage those working in and out of the office.
Leaders will Lead the Way
Engagement in wellness programmes will no longer be a plea from HR and a sheep gathering exercise. Instead, the trend will move toward leading by example and investing in evolving leadership skills that help employees flourish. COVID-19 is bringing a change of ways of working to hybrid work models, which require a fundamental change in the skills that leaders will need to succeed. Organisations will need leaders who can operate across two distinct modes: the virtual mode and the physical mode. The leaders of the future will need to master both modes to lead effective and productive teams. Those who get the best out of people use them for their strengths, help them grow, and give autonomy. These help people flourish and promote a sense of purpose, achievement, and well-being. Driving a culture of well-being can be difficult but rewarding for both the organisation and the employee. When cultivating any cultural change, it needs to come from the top, be purposeful, strategic, and engaging. As we transition back into the workplace, there has never been more focus on supporting employee's health and wellbeing. One that is focused on enhancing the health of both individuals and organisations.
This, in my opinion, has been a long-awaited change that has been needed within the health and well-being industry. It is designed to support both the organisation and the employee. To equip the employer with the tools to provide both a psychologically and physically safe workplace. Working alongside professional advisors, organisations will be able to design tailored strategic solutions that help mitigate the health and well-being risks to employees. Ultimately creating a workplace that enhances the well-being of the people that drive it. This is my hope for the future of work.

Learn more about how our Workplace Wellness Services can help your organisation or contact our Wellness Lead, Elysia Hegarty. You can also download our brochure here.
​