​
Companies need to look at hiring contractors right now
Before we delve into the myriad of advantages to hiring limited company contractors let's take a look at the most pressing reason, the current skills gap. Most employers are experiencing a post-pandemic boom and have a wide array of specialised roles waiting to be filled. However they aren't finding the right talent available in today's marketplace. The looming questions are, how did we find ourselves in this situation and more importantly, what can we do about it?
How did the skills gap come about?
The lack of qualified talent to fill roles had been an ongoing issue, in September 2019, our CEO Anne Heraty, told The Irish Times, "that demand in the technology sector in particular is heightening as a result of skills shortages in the sector." The Covid 19 pandemic, has only exasperated the situation as we now see the skills shortage expanding to other sectors including, finance, science & engineering and others.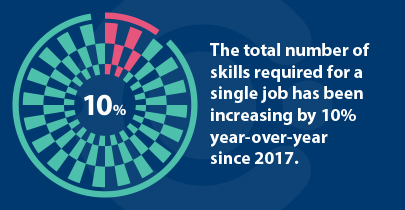 ​One core root of the skills gap unearthed by Gartner, 'data shows the total number of skills required for a single job has been increasing by 10% year-over-year since 2017. Furthermore, one in three skills in an average 2017 job posting in IT, finance or sales are already obsolete.' The ability of employers to upskill was severely hit by hiring freezes and shutdowns during the pandemic. Which also brought a rapid influx in new ways of working. Add a booming post-lockdown economy to the pot and employers find themselves looking at applicants who don't have the required skill sets and those who do, are commanding larger packages.
Overcoming the skills gap
The surest way to overcome the shortage is to start investing in people. A recent survey by McKinsey shows that, "upskilling (more than hiring, contracting, or redeploying employees) is the best way to close the gap". However, this isn't always the feasible, upskilling takes time and many companies need skills in place immediately. Moreover, many of the roles currently in high demand are project based. Companies don't need dedicated teams of employees for these positions, only short term support.
This is where limited company contractors can play a significant role. The rapid deployment of digital technology during the pandemic has created a glut of transformative projects which need to be actioned quickly. Supervising and implementing these type of projects are the bread and butter of skilled contractors. The roles meet many of the core determinations behind bringing in an outside expert.
The work is not part of the company's core business
The roles are for a short-term or seasonal projects
The work does not require close supervision
Limited company contractors can be deployed in a wide range of roles which meet the above criteria. They also relieve pressure on overburdened teams, who are already facing challenges related to Covid uncertainty, working from home burn out and concerns about the future of the workplace.
In this article, we're focusing in on limited company contractors. However there are several terms used to describe non-full time employees. It's probably best to get a full understanding of what each term means.
Contingent worker In the knowledge based economy, contingent workers or contingent workforce are catch all phrases for all the different types of non-payroll staff. It generally refers to, consultants, freelancers, independent contractors, independent professionals, temporary contract workers or temps. In many cases contingent workers are onsite and report directly to a manager in the client company.
Contractor A limited company contractor is a specialist who works as their own individual company. They are hired by a client organisation, in a business-to-business agreement. These specialists are contracted, usually to work on individual projects, as opposed to traditional permanent staff who are employed on an ongoing basis. As with many talent solutions, recruitment agencies are a great way of sourcing contractors.
Consultant A consultant is a specialist who provides professional or expert advice in a particular field. A contractor may or may not provide advice on a job to be done before carrying out the work. A consultant usually only provides advice. Not to say a consultant can't then become a contractor and carry out the required tasks. This usually requires augmenting their contract.
Freelancer Similar to a contractor, a freelancer is a self-employed person who offers services, often working on several jobs for multiple clients at one time. The key difference is a contractor usually only works for one client at a time. Freelancers may work on site or simply submit work to their client manager.
Temp worker Temporary workers are usually employed through an agency, rather than being directly employed by the company. They don't receive the same benefits as full-time employees, however the roles offer flexibility and convenience for both parties. Temp jobs can range from maternity/paternity cover to outsourced solutions such as call-centre operatives.
9 reasons contractors are your next talent solution​

Now that we know what roles best suit contractors and the different types of contingent workers, let's have a look at why limited company contractors are a good fit for your company.
Efficient:

A contractor comes with the experience and know-how to complete the assigned project in the most efficient manner possible.

Experienced:

A good contractor is able to understand the scope of a project, interpret your ideas and advise on the best way to reach your goals.

Specialist Knowledge:

As someone focused on a particular skill set, a contractor will be at the cutting edge of technology and well versed in how to apply new skill sets to the project at hand.

Non-Siloed:

Having worked in a wide range of industries, a limited company contractor brings a wealth of cross-industry knowledge from different sites, environments and technologies.

Accountable:

Contractors are only accountable for the projects they take on. They will not be distracted by other demands which may waylay an employee.

Fill an immediate need:

A contractor can quickly fill a need during times of high demand. Bringing in specialists to help manage projects, teams or provide cover is an immediate solution for short term issues.

Fill a short term gap:

Whether it's a period of rapid expansion or a necessary technological pivot, contractors bridge the knowledge gap. They complete projects, help in the adoption of new systems and cover for future growth.

Cost effective:

While the hourly rate for a contractor can sometimes be higher than an employee, contractors come with their own certificates and training. An expense you may have to cover if you decide to upskill an employee.

Contractors are not on your books for taxes and other employee benefits, their costs are set.

Contractors only work for a set period of time, once they are finished the project hired for they are no longer a business expense.

Quick hire:

The hiring process is simpler and quicker than bringing in an employee. Many companies understand the need to attract top talent for short term projects and offer contractors additional benefits including completion and 'on-time' bonuses.
Next steps
The current skills gap coupled with a post-pandemic boom has created a unique situation for employers; it's simply getting more difficult to find the right talent solutions to meet growing business needs. One of the main reasons for this crisis is the constant evolution of skills needed for technical roles. And while upskilling employees is a solution, most employers need an immediate short-term fix rather than a long-term solution with investment in talent development. This leaves us with a quick fire win in hiring limited contractors to help bridge the skills gaps and get projects moving while companies focus on upskilling and growth.
At Cpl we work with a wide range of contractors and offer an array of talent solution services to meet your business needs. If you currently have a contractor base or are considering one in the future. Cpl also offer, Contractor Management and Payroll Services, Compliance and Insurance, International Contract placement as well as traditional contracting solutions

​Sources:
The Irish Times, "Skills shortage in key sectors help CPL post strong results", Sept 10, 2019. Eoin Burke-Kennedy, Peter Hamilton

Gartner, "Gartner HR Research Finds 58% of the Workforce Will Need New Skill Sets to Do Their Jobs Successfully", Feb 4, 2021

McKinsey & Company, "Building workforce skills at scale to thrive during—and after—the COVID-19 crisis", April 30, 2021​
​
​