According to a recent study by McKinsey, employment rates for women may not recover to Pre-Covid levels until 2024. In comparison, men should reach this level by early 2023. The difference between employment recovery rates highlights one of the many negative ways the pandemic has had affected women more than men.

Since March 2020 there has been a huge change not only in the way people work but also in how they are living. Employers switched to a work from home model, employees turned their homes into office spaces and parents added homeschooling to their list of responsibilities. As we come out of the worst of the pandemic, we're seeing just how much these extra responsibilities impacted women in business more than their male counterparts.

To get further insight into the impact of Covid-19 on women in the workplace, Cpl's Client Service Director, Siobhan O'Shea, reached out to a range of businesswomen to speak about how the pandemic has impacted their careers and their lives.
The gender pay gap
One of the women Siobhan spoke to, a director at a US multinational, really sheds light on what a lot of working women experienced during the height of the pandemic. "As part of a dual-career couple, I feel like I am in a continuous negotiation on the divide of family responsibilities, the majority of which ultimately fall to me. I am fortunate to work for a company offering exceptional flexibility. However, I still feel overwhelmed enough to consider a complete career break until 'things' return to normal."

The stats and data back these feelings up. According to stats published by the European commission in 2020, women earn 14.1% less than men per hour in the EU. A figure which has been mostly stagnant for the past decade.

The World Economic Forum's 2021 Global Gender Gap Report, paints a darker picture, with research showing that, as a result of the current pandemic, the economic gender gap will now take 257 years to close. An addition of 55 years to the already eyepopping 202 years estimated in their 2019 Report.
The impact of unpaid care work on women's careers
In September 2021, employers noticed an increase in the amount of people leaving the workforce. This chapter in the ongoing Great Resignation coincided with students returning to the classroom. The lack of creches placements and the increased cost of childcare increased stress on parents. Which enviably led to an unduly amount of pressure being put on women. This is reflected in 80% of those exiting the workforce during this period, being women.

Without a doubt, the pandemic has intensified the pressure on parents, especially those with younger children, for whom the costs of childcare averages €800 per month per child. With at least 40% of parents availing of preschool services.

The dramatic rate at which they are leaving the workforce, right when childcare needs are spiking, clearly indicates women were faced with a choice: pay huge costs for creche places or leave the workforce to be full-time caregivers. Mothers are being forced to abandon or, at a minimum, put their career paths on hold.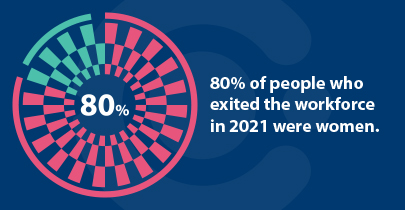 Underrepresentation of women in leadership roles

We are all aware of the corporate ladder analogy, but we may not know of the ladder's 'Broken Rung'. This highlights, that statistically, women have a lesser chance of working their way up the career ladder. This was noted in 2021 by McKinsey's 'Women in the Workplace 2021' report which showed that even at entry-level, women are less likely to progress, with women holding only 38% of entry-level managerial positions compared to the 62% held by their male counterparts.
As a result, men dominate women in leadership roles. Simply put, there are fewer overall women to promote to higher positions. "This makes it nearly impossible for companies to lay a foundation for sustained progress at more senior levels".

Think about the various public statements we watched from our government throughout the pandemic, who presented them? Who crafted our response to the global pandemic? Across the world only 30% of people who presented public statements about Covid-19 were women.
Yet we saw some of the most effective responses coming from countries such as Iceland, New Zealand, Finland, and Denmark who not only have women in government leadership positions but also have the lowest gender gaps.
Fewer women on track for leadership
Over the Covid pandemic mothers and women in senior positions have felt, more pressured, exhaustion and burnt out in the workplace than men. They are also more likely to have their judgment questioned, be mistaken for someone more junior, and be the victim of demeaning remarks. With less than 1 in 5 C suite roles being occupied by women, being a minority in a leadership position is a lonely place to be.

The excessive pressure, workplace exclusion, and the 'Glass Ceiling' phenomenon put the brakes on what seems to be a no brainer: The promotion of women who have; worked harder, overcome more obstacles, and dealt with constant doubt in their abilities, yet still succeeded in the workplace. However, this logic is blocked by unconscious bias.

Unconscious bias is the idea of perceiving individuals as people who either do or don't belong to a group. These preconceived ideas can be either, positive 'The Halo effect' or negative, 'The Horns effect'. Basically, the concept of using one engagement or pre-conceived perception of one individual to brand a whole group in the same way. Or simply, painting the entire group with the same brush.

Greater gender diversity leads to better business, including more consumers, higher sales income, and higher profitability. A study on 'How inclusion matters' by McKinsey found that companies with more than 30 percent women executives were more likely to outperform companies where the percentage of women executives was lower than 10-30%.

Beyond that, companies need balance, as women in leadership are more likely to be allies, to support their teams and advance diversity, equity, and inclusion. Without senior-level women, the upcoming generations will suffer from a lack of powerful allies and mentors.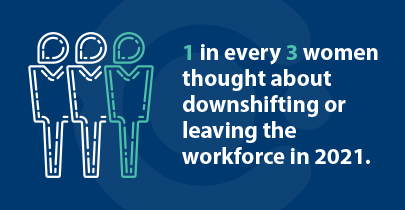 Social leadership - what can we do to support women?

One in every three women has thought about downshifting or leaving the workforce this year, compared to one in every four only a few months into the pandemic.

With this shocking statistic and the aforementioned 'Great Resignation' in full swing, employers need to address the impact Covid-19 has had on women in the workplace so they can tackle it head-on.

The first thing companies should do is speak to all their employees. Communicating directly with them, ask, 'what problems are holding them back or what worries are impacting their performance'. The answers will help inform and guide the types of policies that best address specific workplace concerns.

Ask about issues with flexibility, working from home or, hybrid working models. Increased flexibility is something we all need right now and has been introduced to a certain extent in a lot of businesses. Flexible approaches to work should be offered across all sectors and tailored to employee and business needs.

When looking at a solution to the issue of childcare, businesses could take a step back in time and look at what was offered to women during World War II. As a response to women joining the workforce to assist in war production, the US introduced the Lanham Act. The government became directly involved in providing both childcare facilities and monetary contributions for parents who worked in areas involved in military production. Employers should look at if/why parents are unhappy in their workplace and consider options such as contribution towards childcare services.
Parents should be treated as equals in the workforce. If there are instances that male employees need to take absence this should be facilitated as it would for mothers. Maternity and paternity leave needs to be offered. Having this equilibrium will ensure that no negative sentiments are felt.

A key strategy for ensuring gender equality is to increase representation and inclusion at all levels of planning and decision-making. If you're a decision-maker, speak up when you see wrongdoing, share helpful, informative content on your social networks, share stories to encourage your people managers to do the same. If you're not sure what's good, or bad, ask questions and be curious and open to learning.

It is not all doom and gloom. Some of the most effective responses to Covid-19 came from countries that have women in government leadership positions. This should reinforce to companies the idea that diversity in their teams is not just a nice-to-have, but a must-have.

If companies can rise to the challenges the Covid-19 crisis has thrown into the mix, we may be laying the foundations for a better workplace for everyone.
If you would like to find more about incorporating a strong diversity and inclusion policy within your organisation please reach out to Siobhan O'Shea, our Client Services Director



*This blog was originally published in November 2020 and has since been updated
​Sources:
McKinsey, Women in the Workplace 2021, September 27, 2021

World Economic Forum, Global Gender Gap Report 202, Insight Report, March 2021

McKinsey, Quarterly , One is the loneliest number, January 29, 2019

Simply Psychology, Why the Halo Effect Affects How We Perceive Others, March 22, 2021

McKinsey, Diversity wins: How inclusion matters , May 19, 2020

Cpl, Impact of the Great Resignation, October 2021

McKinsey, Communications get personal: How leaders can engage employees during a return to work , June 26, 2020

New America Weekly, The Intersection of Policy and Practice, July 28, 2016

United Nations Global Compact, COVID-19: How Business Can Support Women in Times of Crisis.

Forbes, What do countries with the best Coronavirus responses have in common? Women Leaders. April, 2020.