According to a recent LinkedIn survey, 63% of Irish professionals are considering a job change this year. This employee urge to churn has been growing since the start of the pandemic and is a symptom of the global 'Great Resignation'. People's interests and goals have realigned and as they look toward greater work-life balance they are leaving employers who haven't adapted to their needs.
If, for whatever reason, you are one of many people changing jobs this year, congratulations. While the prospect of a new role is exciting, leaving your current job can be stressful. There are some important steps to follow to make sure the process runs smoothly and you leave on a positive note. We've put together some useful tips and resources to help you prepare and hand in your notice:
1. Check your employment contract
Before an employee hands in their notice, it's important to address any questions about legalities. Consult your contract of employment and employee handbook. These sources should answer any questions about notice period, pension contributions, and untaken leave.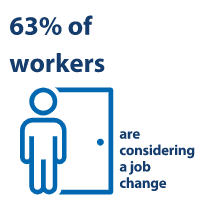 2. Employee benefits – Pension, Bonus, Annual Leave
There are a lot of legalities involved in employment and these should be considered before leaving a job. An employee needs to read over their contract and get their cards aligned so as to not miss out on any entitlements. Here are just a few to acknowledge:
Annual Leave
If an employee leaves a job without taking all their annual leave, the employer is required to compensate for the days not taken. Some employers may grant 'gardening leave' instead of the notice period or 'in lieu' of notice. However, this is not annual leave unless the employee agrees to take it as leave. This distinction should be clarified with your manager or HR (Human Resources) department.
Minimum notice period
If a contract does not mention a minimum notice period, the employee needs to provide the statutory one-week minimum notice period. Not abiding by the statutory or contractual notice period is a breach of contract. And while this is unlikely to lead to any serious consequences, an employer does have the right to sue for breach of contract and it is unprofessional.
Defined contribution Pension
Your personal pension scheme is one part of leaving your job that shouldn't be overlooked. Pensions are monetary retirement plans, most large companies will have defined contribution (DC) schemes. These are 'occupational pension schemes where your own contributions and your employer's contributions are both invested and the proceeds used to buy a pension and/or other benefits at retirement.'
An employee who has been taking advantage of their employer's pension scheme will typically have 3 options when leaving their job.
I. Take their previous contributions out of a fund completely, as a lump sum.
II. Move their pension over to their new employer if their scheme allows (charges could be involved with some transfers).
III. Leave the pension in the current scheme and become a 'deferred member'. This means that the pension amount worked up will remain the same and will stay in an account until withdrawn. Deferred members have the option of being able to withdraw money of up to 25% from the age of 50.
Pension plans may vary with employers, for those leaving a job it's key to do their homework and consider what method suits them best financially when evaluating their pension.
Discretionary and Non-Discretionary Bonuses
There are two main types of bonuses:
Discretionary: Not guaranteed by employer

Nondiscretionary: Part of an employment contract
If an employee's bonus is discretionary, management give bonus's out on pre-set criteria. After handing in notice, the employer may see no reason to award an employee with a bonus.
However, if a bonus is nondiscretionary and part of an employer's contract, the notice is handed in within the minimum statutory requirement (before the bonus payment date) an employer may have to play as per the contract. This means offering the listed entitlements to the employee despite their resignation.
As with all legalities discussed it's crucial for an employee to know their entitlements. The best way to do this is by reading your employment contract.
3. Data Privacy, NDAs, and personal data
According to research by Tessian, the 'Great Resignation' has contributed to 71% of companies reporting a rise in security risks in their companies. Data ownership rights should be outlined in contracts however, it's important to note that most work that is completed by an employee, for a company is in fact owned by the company and not the creator. It's common for employees when leaving a job to download reports, contact lists, or content created in that place of work, this could be a form of a data breach. Downloading files from your workplace could be a breach of contract. The majority of employers require employees to sign (NDAs) Non-disclosure Agreements and taking data is a violation of the NDA. Visit Citizen's advice for more information on Data protection in the workplace.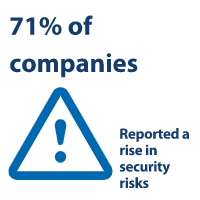 When leaving a place of work employees should also be aware of their own personal data. To avoid any personal data being stored on the employer's devices, clear browser history, and caches, delete any personal files before handing in the notice. (It's not advisable to store personal data on work devices, but it can happen).
Clearing your personal data means that if an employee is let go before their notice period, their data will already be secure.
Delete unnecessary files, backup, and save those that could be used by the company in the future. From a personal point of view, if leaving a place of work it's important to keep personal and business information separate. To do this, before leaving an employee should clear their emails and forward anything important for their replacement or other co-workers should follow up on.
4. Letter of Resignation Template
Quitting your job isn't as simple as turning off your laptop and never reading your emails again. In Ireland, you may be in breach of your employment contract if you leave without providing a written resignation letter.
A resignation letter does not have to be lengthy, it's best to keep it brief and to-the-point.
Key things to include in your letter of resignation:
Official title (role)

Departure date, according to minimum contractual notice.

Gratitude to your employer for hiring you

Your plan to help with the handover

Your contact information
5. Handing in your Notice
Once an employee has their resignation in writing, the next step is to inform their manager. It shows courtesy in informing the manager in charge before announcing it to the wider company. Here are some best practices:
Schedule an in-person meeting –Despite hybrid working becoming the norm for many, there are certain times when an in-person meeting would be ideal. One of these moments is handing in your notice. If an employee cannot organise an in person meeting with their manager, they should schedule a one-on-one video call.

Give at least the required minimum notice – When an employee arranges their call with their manager to hand in their notice it's important that it's organised at a date well within the minimum notice period. When an employee does this, it shows respect for the company facing the loss and allows time for them to find a replacement. It also allows for those leaving to get any urgent deadlines completed and extra time for general organisation before departure.

Have an explanation as to why you're leaving – In most cases, employees can build strong relationships within their team. Therefore, it's critical, to be honest when leaving. It's proven that when employees express thanks and show honesty in their exit interviews and resignation letters that managers are more likely to respond positively.

Offer to help with training the replacement – Alongside creating a handover document for the replacement, offering to help with training is something that can make an employee's departure less daunting for an employer and helps keep good relations with soon-to-be ex-colleagues.

Thank them – It sounds simple but it's true. An employee handing in their notice isn't something any managers want so when gratitude is shown it can put a positive spin on the situation. If an employee is looking for a reference before they leave remaining on friendly terms is also important.
6. Reference Letters
There is no legal right for a company to provide employers with a reference. Towards the end of an employee's notice period, it's good to discuss the topic of references with a manager or HR department. Sorting this out straight away gives the employer time to properly write a reference and time to think about what to include. Good references are the best recommendation you can have for a new employer and are good to have on hand long term. Ask for your reference in PDF format, so you can keep it for future use.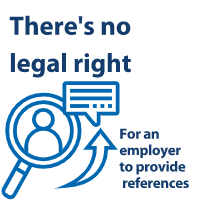 7. Employee handover
People who have worked for some time in a role and built strong relationships with colleagues, never want to create a negative feeling when leaving. Creating a thorough handover process document will be greatly appreciated by those taking on outstanding tasks. This document will also be an essential utensil for the new starter.
The handover document should contain everything the new employee needs to fulfill their new role.
Key things to include in a handover document:
A breakdown of responsibilities

Who the new employee reports to

Expectations of the role, and procedures associated with them

List of relevant contact details: eg suppliers, connections

Logins for technology and software needed for the job.

List and information regarding ongoing projects, including deadlines.
8. Employer Counteroffers
A counteroffer is a salary increase or promotion offered in response to an employee handing in their notice. This is an employer's last bid attempt to keep a trusted colleague on the team. Post pandemic, counteroffers have been on the rise due to 'The Great Resignation' and the global talent shortage. The next blog in our Candidate Series will explore counteroffers in more detail.
Conclusion
Before an employee hands in their notice, there are a lot of factors to consider. Preparing in advance can help solve any issues that could arise.
Damaging any professional relationships on your way out the door will likely hurt you down the road. People will remember you by your last days and if they are negative, your professional reputation will be tarnished. Keep this in mind after you hand in your notice. If you need any advice on handing in your notice our specialist recruiters are here to help. Get in touch.
​
​Sources:
63% of professionals considering a job change: survey, RTE.ie, Jan 2022.

Minimum Notice and Terms of Employment Act, 1973, ISB.

What you really need to know about company pensions, Irish Life.ie, Dec 2021

Discretionary vs. Nondiscretionary Bonus: Everything You Need To Know, Indeed.com, April 2021.

How the Great Resignation is Creating More Security Challenges, Tessian.com, Feb 2022.

How to clean up your computer, Randstad, Nov 2021.

This 3-step strategy is the best way to quit your job, according to career experts, CNBC.com, Nov 2021.

Is there a legal obligation to provide a reference? Fieldfisher.com.

4 Tips for Completing a Professional Job Handover, makeuseof.com, Nov 2021.