What diversity in the workplace means
Diversity in the workplace refers to the individual characteristics employees have that make them unique. These characteristics can include gender, race, ethnicity, religion, age, sexual orientation, physical abilities, and ideologies. Workplace diversity also includes a person's life experiences, how they solve issues, and an organisation's overall culture. In simpler terms, diversity in the workplace means hiring a wide range of people that are different.
What is a D&I strategy?
A diversity and inclusion strategy is an organisation's reaction to demonstrating acceptance and understanding that each employee is unique and valued equally.
A workplace with a diverse range of employees can bring a wealth of benefits to an organisation. From improved communication and creativity to a better understanding of customers.
An organisation structure built with people from various backgrounds and experiences is a true representation of the modern world. It's evident from research that promoting diversity in the workplace has several advantages.
We look in detail at just some of the benefits an organisation can gain from installing a diversity and inclusion strategy.
Diversity boosts employee engagement and retention
Employee turnover is lower in diverse organisations. Since 2021, there has reportedly been a twofold increase in employee turnover. Focusing on diversity and inclusion initiatives is important for strategic employers who want to retain talent. This is magnified in McKinsey's 2021 report which discovered that the top reason (54%) people decided to quit their jobs was because they didn't feel valued by their organisation.
If an employee feels valued in their workplace it's likely that they'll also be more engaged and motivated to perform. Research from Gallup found that highly engaged teams are 14% more productive than disengaged teams. They also found that disengaged employees can cost their companies the equivalent of 18% of their annual salary. Not only does diversity influence engagement it also helps employee wellness and attendance. According to Deloitte, if just 10 percent more employees feel included, organisations will increase work attendance by almost one day per year, per employee.
Diverse organisations are more profitable
Diverse organisations have 2.3 times more cash flow per worker, demonstrating that diversity is profitable. Companies that are paying attention to the demands of their workforce are emphasising diversity. This is demonstrated by a recent BuiltIn survey that indicated that in 2022, 43% of businesses plan to invest in a diversity strategy, up 24% from the previous year.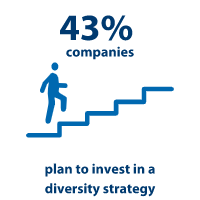 Investors are also increasingly considering diversity as part of their Environmental, Social, and Governance (ESG) criteria. An EY survey found that 47% of investors noted a company's ESG strategies as one of the biggest drivers of success. ESG criteria are 3 of the factors investors use to rate a company's potential profitability.
Environmental - Environmental criteria refer to an organisation's commitment to protecting the environment by looking at their processes that could have an adverse effect on the planet. A positive example could be sourcing fair trade suppliers or having a tight water waste management program.

Social - Social factors are where diversity and inclusion really matter. Investors will look at how employees are treated, employee retention, employee compensation, and other workplace policies. In the case of the EY report, 42% identified diversity as a significant driver of success.

Governance - 85% of investors stated they wanted to know more about a company's surrounding workforce diversity in terms of gender, race, and ethnicity and noted that 'diversity was a top investor engagement priority.
Workplace diversity is good for reputation and innovation
The International Labour Organizations (ILO) Business for Change report found that organisations with inclusive business culture and practices had a 58% chance of improving their company reputation and that is echoed by many studies. A diverse workplace is becoming increasingly more important to potential employees.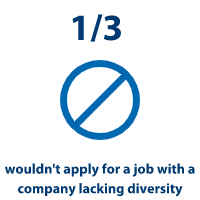 According to Glassdoor, 1 in 3 people would not apply for a job at a company where there is a lack of diversity among its teams. The new generation of the workforce: Millennials and Gen-Zers have grown up with diversity and expect it from organisations. A survey conducted in 2021 by Deloitte, found that 44% of millennials and 49% of Gen Zs surveyed said that over the past two years, they have chosen the types of work they would do and the organisations they'd be willing to work with based on their personal values. These values are incredibly important to many millennials and Gen Zs, they guide their career decisions and how they spend their money.
Diversity in the workplace drives Innovation
As previously mentioned, investing in diversity can be extremely profitable. One side of how diversity can impact profitability is innovation.
Boston Consulting Group surveyed employees in 1,700+ companies in eight countries to gauge a company's level of innovation. They also looked at willingness to drive a strong diverse workplace, by examining the diversity of management teams. Surprisingly, companies with more diverse management teams reported higher innovation revenue of 45% of total revenue, compared to companies with less diverse leadership, which only saw 26%. This was also echoed by McKinsey who found that organisations with ethnically diverse executive teams are 33% more likely to outperform their peers on profitability. This is due to the variety or mix of ethnicities represented on these teams.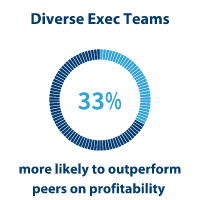 Diversity represents the real world
A diverse workplace helps build a customer strategy that is inclusive. There's not a one-size-fits-all when trying to please customers. Diversity is having a workforce that includes people who are different and is inclusive of backgrounds, gender, race, ethnicity, religion, age, sexual orientation, physical abilities, and ideologies. These are workplaces that are more likely to represent higher numbers of customers.
By having a diverse workforce, you can better understand the concerns and preferences of various population segments. This allows you to adjust your products or services to make them more enticing to these groups, potentially leading to an increase in your number of customers.
What does diversity in the workplace look like?
Diversity in the workplace can mean a lot of things. From an outsider looking in, diversity in the workplace starts with the hiring process, recruiting people with varied backgrounds, cultures, and abilities. However, you can have an extremely diverse workplace but without creating an environment where each individual feels valued and supported. Without creating an environment that supports diversity, supports, and values everyone an organisation will struggle to see the benefits mentioned within.
Organisations that foster diversity can not only experience a significant improvement in their workforce (retention and productivity) but also gain recognition as an employer who values diversity beyond the workplace.
If you'd like more information on enhancing your company's diversity and inclusion strategy, reach out to Cpl's Future of Work team.
Sources: