What is a pre-recorded interview?
Before we jump into pre-recorded interview formats, sample questions, and tips, let's first, take a look at this interview style and see why it's been growing in popularity.
Pre-recorded interviews are one-way, filmed recordings of a candidate answering pre-set questions. The candidate is asked to answer a series of questions that a hiring manager sets to assess whether to move the candidate further along the hiring process.
Pre-recorded interviews are generally used to screen a lot of job applicants quickly and efficiently/ And are a form of pre-screening before candidates are invited to an in-person job interview. For candidates who are invited to do a pre-recorded interview, their video will likely be viewed quickly by the hiring manager. In fact, ConveyIQ, a digital interviewing software company, found that their clients noticed a 64% improvement in time-to-hire rates by using pre-recorded video interviews.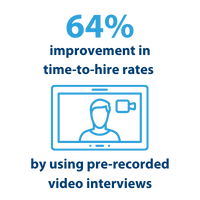 Why use pre-recorded interviews?
Generally used by larger companies, pre-recorded or 'one-way' job interviews are used in the same way a phone interview is traditionally used by a recruiter – to ask some quick standard questions and confirm that you're suitable for a full interview.
There are several benefits to pre-recorded interviews. Unlike in-person or video job interviews, pre-recorded interviews are unscheduled and can be done at a time that best suits the candidate. This could be especially significant for parents or those with a busy schedule.
As with all types of interviews, those who put in the time to do their research will reap the benefits in the long run. Job seekers should answer the pre-recorded interview questions, like any other interview. Tie their skills into the desired job descriptionwhilst also showing their knowledge of the company and industry. Candidates should prepare well in advance and use the opportunity to highlight experience, passions, and personality.
How does an automated pre-record interview work?
Automated job interview assessment software like Vidcruiter is generally easy to use, with customer support available if an applicant encounters issues on using the digital interviewing platform. Once completed, the assessment is sent to the hiring teams, allowing them to quickly review applications.
By completing this automated job interview, the hiring team gets a better insight as to who the applicants are and why they would be a great fit for this role. The Talent Acquisition teams can then make a more informed decision about who is suitable for the role.

"In the past we have found that these interviews support with diversity and inclusion. Employers who use these automated interviews reported back that they are seeing increased diversity coming through in their successful hires."

Niamh O'Connor, Senior Client Services Manager at Cpl, speaks from her experience using pre-recorded interviews.
Tips for succeeding in your pre-recorded interview
In the next part of this blog, we will look at some tips to help you succeed in your pre-recorded interview. This includes insights into the format of most pre-recorded interviews and some pre-recorded video interview question examples. Read on below for our guide to pre-recorded interviews.
For more advice on job interviews and the recruitment process visit our Job hunting toolkit where you will find informative handbooks. One example of this is our Video Interview handbook.

Can you decline a pre-recorded video interview?
If a candidate decides, they can decline a pre-recorded video interview and ask for a more traditional interview. However, there is no guarantee that the hiring manager will still consider them for the role. If an applicant cannot do the interview due to accessibility reasons, they should get in touch with the hiring manager or recruiter and let them know.
Pre-recorded video interview format
Pre-recorded or one-way video interviews usually follow the same format:
An applicant is sent a link to the video interview software and provided with a login to register and start the interview

Some employers will set mock questions so candidates can get comfortable with the format and platform.

Engaged hiring managers will pre-record themselves asked the questions and provide a short introduction video.

Most interviews consist of 5-10 questions, with qualifying questions asked first.

The hiring manager will set amount of time to answer each question, the timeframe may depend on the complexity of the question.

Candidates will also have time between questions to compose themselves, however this time may be shorter on critical questions that the hiring manager wants an immediate response to (qualifier questions).

For senior roles, expect fewer, but more complex questions.

You may be able to re-record answers, it's best to confirm this option with your recruiter.

Once the candidate has answered the questions the interview is over, and the recording is submitted to the hiring manager.
If you've any questions about the interview process, ask your recruiter to clarify what you'll encounter.
Pre-recorded video interview questions examples
A pre-recorded video interview is used to learn more about an applicant, their interest in the company and their skills. The questions asked are usually general questions, similar to what is asked in pre-screening interviews. A few examples of these are:
'Tell me about yourself'

'Why are you interested in this position?'

'What skills can you bring to this role'?
It's also good to expect some 'Knockout questions', basic questions about qualifications and experience which are a must for the hiring manager. Finally, in some cases, the hiring manager may ask more complex questions in order to assess knowledge, etc. As with any interview, you may not know what to expect, so over-prepare.
8 Tips to pass a pre-recorded video interview
As with 'live' video interviews, checking technology connections and requirements are crucial. It's recommended to test relevant equipment, including the camera, microphone, and Wi-Fi, to ensure they are all working. For more information on setting up the right environment to record your interview, visit our blog on 'how to succeed in your next interview'.

Applicants can log in on a computer or mobile device, with phones providing a better image quality than standard laptop cameras.

Read the instructions that will be sent prior to recording carefully and ask questions in advance.

There will usually be a deadline to complete the video interview. Take note of this deadline.

If you've never completed a pre-recorded interview before, do a few tests. Some people can find filming themselves difficult, but by doing some trial runs you'll appear more natural and confident on screen.

Dress professionally, as you would for a regular job interview or 'live' video interview.

Although not speaking directly to a person, an applicant should look at the camera when recording their interview. Eye contact is always important!

Think of the pre-recorded interview as your 'virtual cover letter' and use it to highlight the information you think is relevant to the job.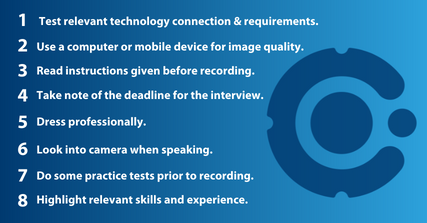 Pre-recorded video interviews save employers time and give them an opportunity to interview more candidates. For applicants, pre-recorded interviews offer extra flexibility and an extra chance to communicate their skills and show their suitability for the role. Like any type of job interview, the most important thing is to prepare and practice.
If you're looking for more tips and advice to help you with your next career move, check out our Candidate Series.
​If you'd like to receive our monthly career advice newsletter register here.
Sources: