Sending an email after a job interview is not only a great way for a candidate to say, 'thank you for taking the time to speak to me' but is another chance to demonstrate that they're the best person for the role. Although highly recommended, an astonishing 57% of candidates don't bother sending a follow-up email after a job interview.
But since you're part of 43% who do follow up after a job interview, we've put together some tips to help you write the perfect follow-up email & to help you stand out from the crowd.
Why you should send a follow-up email after an interview
According to a report by TopResume, 68% of hiring managers said that a follow-up email after a job interview impacted their decision-making. No matter what step you are in the process, following up 24-48 hours after an interview can help a candidate in many ways, including reminding the interviewer of your interview performance and reiterating your desire for the role.
Send a follow-up email after a job interview to not just say thank you, but to recap your conversation with the hiring manager. Saying thank you shows appreciation, but providing solutions and showcasing your abilities will get you noticed.
Reflect on the conversation you had during the interview. Were there stand-out topics that seemed of extra importance to the hiring manager? If you joined the team, what problems would you solve? Was there a connection between the candidate and interviewer on a certain topic? Follow-up emails are the perfect opportunity for candidates to continue the conversation and address anything they feel may have been missed.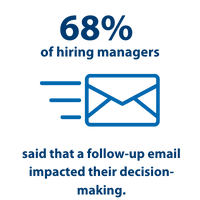 How to word a follow-up email
A candidate can expect 2-3 rounds of interviews before receiving a job offer, after each round, a candidate should send a follow-up email. Forbes recommend that candidates treat every follow-up email as an 'authentic conversation'. With this in mind there isn't as such an email template to follow, but a list of components that should be included. Let's go through these components one at a time.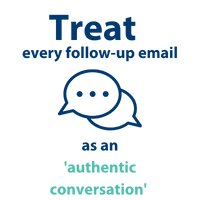 Subject line
Start with an interesting subject line. Do you want to open a marketing email from a company if the subject line is uninteresting? No. The same holds true for a follow-up email. In this case, a candidate is trying to sell themselves to an employer so they've got to put their best foot forward.
Use the email subject line to quickly define your solution to problems mentioned by the interviewer. A candidate should also include their name in the subject line to reinforce their memory. Here is an example of follow-up email subject lines:
'A TikTok strategy to get golf wear on everyone's newsfeed' – from Joe Murphy.

'Segmentation to connect your business with people that matter' – from Jessica Miles.
Add promised attachments
If a candidate had previously promised to supply extra information such as a link to a blog or website, now is the time to include it. If there are any documents that a hiring manager requested attach them to the email too.
Paragraph 1
Begin your email with a short thank you to the hiring manager for taking the time to interview you. After that formality is complete, highlight your interest and abilities. In the opening paragraph, a candidate should mention some points that were discussed in the interview that resonated well with the interviewer. If you and the interviewer exchanged a common interest, mention the topic within the email to build the connection.
For example: ' Hi Rebecca, I wanted to send a note to say thank you for the interview today. I really enjoyed chatting about our shared interest in podcasting and am looking forward to watching videos from the YouTuber you recommended.'
Paragraph 2
In the 2nd paragraph of your follow-up email, nail down the reasons why you are the right person for the job. Use the job description to highlight 2-3 of your skills or qualities that weren't mentioned in the interview that relates to the role. Focus on highlighting important experiences which you didn't have the chance to touch upon during the interview. Did the interview ask about any issues the organisation is looking to solve with a new hire? Suggest how you would solve that issue.
Closing notes
Finish your follow-up email by alluding to the future and reiterating how you plan to contribute to their organisation. You can also express an interest in hearing about the next steps if the interviewer hasn't already disclosed them.
Conclusion
A candidate should see the follow-up email as just another part of the recruitment process, contributing to the end goal of securing their next career move. When executed correctly a follow-up email is an extra opportunity for a candidate to set themselves apart from others and highlight their interest in the role. When sending a follow-up email, do not expect a response from the employer. Do not be disheartened if they don't, this doesn't affect your chances in the interview process.
If you're looking for more career advice, check out our candidate series. Or if you're looking to see what opportunities are out there, view our live jobs.
Sources: