​The need for cybersecurity professionals is growing quickly, from 2013-2021 the number of unfilled cybersecurity jobs grew by 350% and research from Cybersecurity Ventures predicts that these numbers will remain the same until 2025.
Moreover, according to a 2021 report by Accenture, cyberattacks are becoming more prevalent. Cyber security industry experts say breaches and other security attacks are a case of 'where and when they happen' and not 'If.' With the average number of attempted cyberattacks, per company, rising by 31% between 2020 and 2021, the need for increased Cybersecurity IT personnel across Ireland and Europe is continuing to accelerate. In fact, a recent report by Microsoft found that the need for cybersecurity skills has grown by an average of 22% across Europe.
At the 2022 Munich Cyber Security Conference, Vice President of the European Commission - Margaritis Schinas made an urgent plea for Member states to 'pledge to train professionals on cybersecurity skills'. Despite increasing cybersecurity requirements in European legislation, little has been done to combat the talent gap.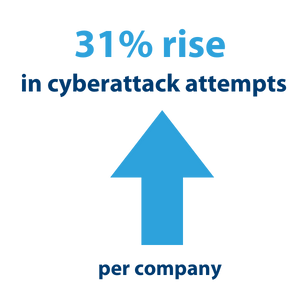 Why is there a shortage of cybersecurity professionals?
Approximately 44% of chief risk officers and chief information security officers report having had trouble attracting talent with cyber risk and security skills in the past year.
The main reason for the current shortage of cybersecurity professionals is the skills gap. This is compounded by the increased pressure to secure ever-expanding remote systems fuelled by flexible working arrangements. Employers have found that there simply are not enough cybersecurity professionals with suitable credentials for the roles available.
This is echoed in (ISC)2's recent study where 70% of cybersecurity professionals said that they feel their organisation does not have enough cybersecurity staff. Not only this, but a worrying 50% believe that this lack of staff is putting their organisations at a 'moderate' or 'extreme' risk of cyberattack.
The increasing demand for cybersecurity professionals is widening the skills gap. Technology is becoming increasingly more sophisticated, making the securing of systems and data against cyber threats more difficult than ever before. As a result, organisations now require a larger cyber workforce.
What does a cybersecurity professional do?
A cybersecurity specialist safeguards digital data and network and infrastructure. Cybersecurity professionals work to protect organisation's systems. They ensure that sensitive information remains protected by auditing software and hardware systems. A professional is not only in charge of fixing the aftermath of an attack on the company's network but ensuring that they are always producing new, efficient, and accurate solutions to prevent such attacks from happening.
A cybersecurity professional's day-to-day responsibilities are varied and often change, however, some of their main duties include:
Regularly conducting audits of security practices to ensure compliance

Problem-solving, analytics, reporting and time management.

Analysing network and application performance to identify irregularities

Conduct controlled cyber-attacks to identify gaps or vulnerabilities in a system's existing structure and protection.

Preventing malicious hacks by deploying endpoint detection and prevention tools

Working with areas of the business such as HR (Human Resources) to inform employees about cyber-hacking and steps to take to avoid attempts such as phishing.
How does an organisation fill its open cybersecurity roles and prevent cyber threats?
McKinsey notes that planning is the most effective approach for an organisation to expand its cybersecurity teams. Establishing a hiring roadmap that especially focuses on the most important cyber projects can be made easier by understanding an organisation's cybersecurity needs. However, with the growing impact of the cyber security skills gap, some organisations are exploring alternative solutions.
Organisations are turning to Professional Contractors for infrastructure and cybersecurity needs.
One-way in which organisations are coping with this rapid increase of demand is by hiring professional contractors.
Professional contractors are highly specialised individuals with updated skill sets that can pick up a project and run with it from the first day for a set period, resulting in maximum efficiency. They operate as their own independent company as opposed to being an 'employee.' As they work from project to project, professional contractors are incredibly adaptable and always up to date with their skill set, which is extremely beneficial in a constantly changing environment such as cybersecurity.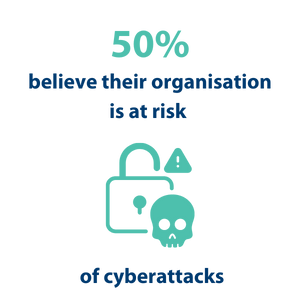 The benefits of hiring a professional cybersecurity contractor
Professional cybersecurity contractors are an affordable resource for an employer. A professional contractor does not require the benefits package of a full-time employee, including holiday pay and annual leave.

Professional cybersecurity contractors are more flexible with their hours meaning they can deliver exactly what the organisation asks are at that moment in time.

Professional cybersecurity contractors do not require administrative costs or redundancy payment in case of layoffs during uncertain hiring times. Professional cybersecurity contractors are hired for a specific period with their contract ending when the job is complete.

Professional cybersecurity contractors don't require training or onboarding. This saves employers' overhead costs for training and also saves time with contractors being able to start on a project immediately.

Professional cybersecurity contractors work from project to project. Meaning that their tech stack skills are always up-to-date, relevant, and in line with current demand. This is important in the cybersecurity industry with the ongoing skills gaps and constant evolvements.
Cpl's Professional Contracting team are happy to help you with any questions you may have about hiring professional contractors. Get in touch with us today.
Sources