​Most in-demand jobs: Artic Drivers and Rigid Drivers
Salary range: €45,000 to €52,000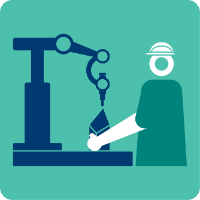 ​What qualifications and experience are employers seeking in artic and rigid driver candidates?
To be an artic driver, you need a category CE driving license, while a category C driving license is required for a rigid driver position. For both jobs other certifications that may be necessary include a Certificate of Professional Competence (CPC), a Driver Qualification Card, a Driver Digital Tachograph Card, a Manual Handling certification, and an Accord Dangereux Routier (ADR) license.
Soft skills and experience are also important to employers. Some key soft skills include communication skills, problem-solving abilities, and an attention to detail. For those with the necessary skills and work ethic, artic and rigid driver roles usually require a minimum experience of six to twelve months.
What kind of benefits can artic and rigid driver candidates expect to receive?
Entry-level positions in the light industrial sector, such as artic and rigid driver roles, offer ample opportunities for learning and development. These include obtaining relevant certifications and accumulating valuable experience to enhance your portfolio.
Those who work their way up will have access to benefits such as medical insurance, and employer pension plans.
Conclusion
As the economy continues to grow, logistics and transportation remain vital for businesses, making drivers an essential part of the workforce. These jobs offer excellent career progression opportunities for those looking to make their mark in Ireland's light industrial sector.
Take the next step in your career and visit our live jobs.
Discover the most in-demand jobs across 16 sectors.