2023 promises to be a year of normalisation after the disruption of the Covid-19 pandemic. Over the past few years, trends like remote and hybrid working, become mainstays and expectations like work-life balance have come to the fore. Many of the most in-demand jobs in Ireland offer some form of flexible working and employers are quick to offer benefits which make it easier for people to manage busy personal and professional roles.
The 2023 talent market will again be dominated by talent shortages, which will drive up demand. As Ireland's economy continues to pick up the pace, let's have look at some of the most in-demand jobs in 2023 and the pay and benefits packages they command.
​

Accountancy and Finance
Most in-demand jobs: Accountant and Financial Analyst
Salary range: €60,000 to €75,000
Increased demand for accountancy and finance professionals means 2023 is shaping up to be an exciting year for jobseekers. Candidates are currently enjoying a great deal of leverage when it comes to potential salaries and benefits packages. Experienced accountants are in high demand, particularly those with expertise in IFRS and US Gaap/Sox frameworks.
Accountancy and Finance sector insights | Learn more about Accountant and Financial Analyst roles
​

Construction
Most in-demand jobs: Project Engineer and Project Manager
Salary range: €55,000 to €95,000
Planning approvals for construction projects throughout Ireland have surged in recent years. Leading to increased demand for project engineers and project managers across commercial and residential property spaces. Highly experienced engineers are needed to ensure that builds reach completion safely. People with 3 - 5 years of experience are especially sought after by public and private organisations.
Construction sector insights | Learn more about Project Engineering and Project Manager roles
​

Engineering
Most in-demand job: Process Engineer
Salary range: €65,000 to €90,000
Ireland's engineering sector shows no signs of slowing down in 2023, especially as the demand for new buildings continues to dominate the economy. Process engineering candidates should have a relevant level 8 degree. It is also essential that candidates have extensive experience working in an environment with 'Lean Manufacturing' principles. Additionally, employers require people who are, flexible and willing to work shift-based production cycles.
Engineering sector insights | Learn more about Process Engineering roles
​

Executive Search
Most in-demand job: Chief Operating Officer (COO)
Salary range: €110,000 to €220,000
The climate in 2023 within senior appointments continues to be steady with particular emphasis on organisational transformation and people development. Overseeing transformation makes the COO role of particular interest to organisations.
Chief Operating Officers should possess exceptional emotional intelligence, relationship building, problem-solving, decision-making, persuasion/influence and coaching skills that enable them to effectively devise and lead long-term business objectives.
​Executive Search sector insights | Learn more about Chief Operating Officer roles
​
Financial Services
Most in-demand job: Fund Accountant
Salary range(s): €60,000 to €100,000.
Ireland's global leadership in fund services makes it an attractive investment location. Accounting roles have been an increasingly in-demand field due to a surge of new entrants and heightened competition. Employers are looking for fund accounting candidates with a BA in an accounting or finance-related discipline, or who hold a professional accounting credential (such as an ACA, CIMA, or ACCA).
​Financial Services sector insights | Learn more about Fund Accountant roles
​

Human Resources (HR)
Most in-demand job: HR Generalist
Salary range: € 40,000 to €65,000
Over the past 12 months, we have seen a big shift in talent acquisition. As 2023 progresses organisations will focus on temporary rather than permanent hiring. To help with this shift, employers are seeking HR generalist candidates. They will be expecting jobseekers with a wide range of skills and experience across all aspects of HR, including recruitment, reward structure analysis, learning & development initiatives, and employee relations. Organisations will also be looking for those who can comfortably handle both strategic and administrative tasks related to HRIS systems and analytics reporting.
Human Resources (HR) sector insights | Learn more about HR Generalist roles
​

Languages
Most in-demand job: Multilingual Sales Agent
Salary range: €32,000+
The multilingual industry seeks individuals with a determined and ambitious mindset to join their teams. Specifically, companies are seeking outbound sales professionals who possess a desire to continuously improve their skillset, either through acquiring new techniques or refining existing ones. Employers now place greater importance on interpersonal and soft skills and are willing to recruit candidates with the right attitude, even if they have limited experience.
Language sector insights | Learn more about Multilingual Sales Agent roles

Legal
Most in-demand job: Financial Services Solicitor
Salary range: €80,000 to €120,000
As we progress into 2023, the legal industry continues to be highly competitive for both jobseekers and employers. Over the past year, new firms have entered the Irish market, leading to an overall increase in demand for financial service solicitors across all levels.
Legal sector insights | Learn more about Financial Services Solicitor roles
​

Light Industrial
Most in-demand jobs: Artic Drivers and Rigid Drivers
Salary range: €45,000 to €52,000
With Ireland's current unemployment rate at 4.4%, the light industrial sector will remain highly competitive in 2023. At present, employers within the light industrial industry are searching for individuals who are excellent communicators, adept at problem-solving, and reliable team players with keen attention to detail. Candidates who possess the requisite skills and attitude to excel in these roles can apply for artic and rigid driver positions, for which a minimum experience of six months to one year is required.
​Light Industrial sector insights | Learn more about Artic Driver and Rigid Driver roles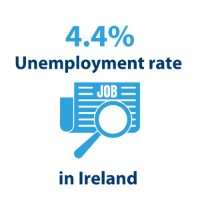 ​

Life Sciences
Most in-demand job: Quality assurance
Salary range: €65,000 to €85,000
The pharma and biopharma talent markets are becoming increasingly competitive. Employers are struggling to find talented personnel for site-based quality assurance roles. Many life science candidates can take advantage of the competitive benefits offered by leading companies. From fully remote and part-time hours to attractive hybrid models, professionals can find a workplace setup that meets their needs. Aside from flexible working arrangements, quality assurance candidates can expect medical insurance, employer pension plans and annual bonuses.
Life Sciences sector insights | Learn more about Quality Assurance roles

Marketing
Most in-demand job: Digital Marketing Specialist
Salary range: € 40,000 to €50,000
Employers are currently facing challenges in hiring digital marketing specialists with a balance of industry experience and adaptability. Many candidates only consider hybrid work options, and employers lacking flexibility will struggle to attract top talent in this candidate-driven market.
Organisations are looking for digital marketing specialists with three to five years of experience, and a diverse skill set that can easily adapt to multiple industries.
​Marketing sector insights | Learn more about Digital Marketing Specialist roles

Office Support
Most in-demand jobs: Personal Assistant (PA) and Executive Assistant (EA)
Salary range: € 45,000 to €65,000
As we progress further into the year, the office support industry appears to be robust and highly competitive. There is a wide range of job opportunities available for candidates seeking to advance their careers. Employers are particularly interested in personal and executive assistants who possess versatile skill sets and can operate effectively in fast-paced work environments.
​Office Support sector insights | Learn more about Personal Assistant and Executive Assistant roles
​

Sales
The most in-demand jobs: Business Development and Account Managers
Salary range: €35,000 to €55,000
As we enter 2023, the most highly sought-after sales positions are business development managers and account managers (specifically for entry to mid-market level). Employers are searching for sales candidates who can take on multiple responsibilities, including developing new business from scratch and building long-term relationships to ensure repeat business. Moreover, due to a lack of employee turnover in the market, there is a greater willingness to consider individuals without prior industry experience.
Sales sector insights | Learn more about Business Development and Account Manager roles

Supply Chain
Most in-demand job: Supply Chain Manager
​Salary range: €75,000 to €90,000
Ireland's supply chain industry remained stable in 2022, especially within the pharmaceutical sector. Currently, the Irish supply chain sector is close to full employment, resulting in high competition among employers.
Employers are looking for skilled professionals with an end-to-end supply chain background, planning expertise and familiarity with a Good Manufacturing practice (GMP) environment.
​Supply Chain sector insights | Learn more about Supply Chain Manager roles

Technology (Perm)
Most in-demand job: Full Stack Developer
Salary range: €80,000 to €100,000
As digitisation and automation become more prevalent, the demand for software developers continues to rise. Employers are seeking developers who can both code and implement these changes. Despite layoffs from some major tech firms, the 2023 market remains optimistic. The talent shortage creates opportunities beyond software development in areas like DevOps, cybersecurity, and QA/testing.
Technology (Perm) sector insights | Learn more about Full Stack Developer roles

Technology (Contract)
Most in-demand job: Cyber security analyst
Salary range: €400 to €600 per day
The demand for Cyber security contracting professionals has shown no signs of slowing as we move further into 2023. Cyber security analyst contractor candidates with five-plus years of experience are most in demand. The ideal cyber security candidate should have an intimate knowledge of architecture, networking protocols & operating systems plus be well-versed in programming language fundamentals & relevant certifications (like CompTIA Security+ or Certified Ethical Hacker).
Technology (Contract) insights | Learn more about Cyber security analyst roles
Conclusion
Take the next step in your career with Cpl, visit our live jobs or get in touch.
Sources:
Monthly Unemployment January 2023, Central Statistics Office, Feb 2023