​Most in-demand job: Digital Marketing Specialist
Salary range: €40,000 to €50,000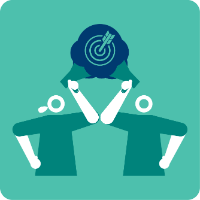 What qualifications and experience are employers seeking in digital marketing specialist candidates?
Organisations are looking for digital marketing specialist candidates with three to five years of experience and a diverse skillset, that can easily adapt to multiple industries. Some of the skills employers are looking for include a deep understanding of Search Engine Optimisation (SEO) alongside Google Analytics and AdWords. Additionally, candidates that have advanced knowledge in Adobe InDesign, Photoshop & Illustrator. It's also important for candidates to be familiar with popular social media platforms such as LinkedIn, Facebook, Twitter & Instagram for content planning and creation.
What kind of benefits can digital marketing specialist candidates expect to receive?
Employers are offering digital marketing specialist candidates benefits including employer pension contributions, medical insurance, and annual bonuses.
What flexible or hybrid working arrangements are being offered to digital marketing specialist candidates?
Hybrid working is the norm within the marketing industry in 2023. However, we are seeing an increase in Small Medium Enterprise (SME) employers requesting employees to be in the office three to four days a week and one to two working from home (WFH).
Conclusion
Digital marketing specialists are currently the most in-demand professionals in Ireland's marketing sector. Employers are especially interested in those with three to five years of experience within multiple sectors and with varied skillsets. To secure top talent, employers are offering flexible working arrangements and attractive benefits packages.
Take the next step in your career and visit our live jobs.
Discover the most in-demand jobs across 16 sectors.