​Most in-demand job: Full Stack Developer
Salary range: €80,000 to €100,000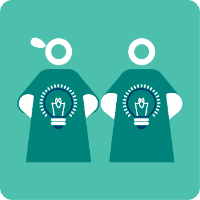 What qualifications and experience are employers seeking in full stack developers?
Employers are seeking full stack developers with at least five years of experience. These developers should be able to provide examples of code they have written and released within the past year. As software development teams are now regularly producing and testing new code on a monthly, or even weekly basis, practical hands-on experience is essential for candidates.
What kind of benefits can full stack developer candidates expect to receive?
The benefits offered to job candidates vary depending on the size of the organisation. Bigger organisations tend to offer higher salaries. In contrast, startups won't offer the same rate but can provide employees with valuable experience and opportunities for learning and development.
What flexible or hybrid working arrangements are being offered to full stack developer candidates?
Working arrangements in the technology sector can vary greatly. Flexibility and the option to work fully remote are paramount to many developers. However, this can conflict with a company's desire to foster a collaborative team environment during growth stages.
New companies entering the market and expanding organisations often require a greater on-site presence (around two or three days per week in the office). In comparision, larger employers may only require employees to attend the office a few times per month for team collaboration days.
Conclusion
Despite some industry layoffs mainly at the beginning of the year, Ireland's technology sector offers a wealth of opportunities for developers looking to secure a rewarding career. Full stack developers are predicted to remain the most in-demand job in 2023, with salaries and benefits varying depending on the organisation. Flexibility and the move towards remote working have also been observed, with hybrid working arrangements becoming increasingly common. There are numerous exciting career prospects available in Ireland's technology sector.
Take the next step in your career and visit our live jobs.
Discover the most in-demand jobs across 16 sectors.