​If you've been in your current role for a number of years or are looking to re-enter the workforce after a break, applying for jobs can seem really daunting.
This is well recognised in the professional world and many companies even have re-entering the workplace programs (also known as returnships') to help people return to work. If you're putting off updating your CV or haven't applied for as many jobs today as you put on your to-do list, don't feel bad.
Like anything, getting started is the hardest part. To help you, we've gathered some of our most useful (and quick) tips. If you're still struggling please do get in touch, our consultants have been helping people find jobs for 30 years and are happy to help.
Update your LinkedIn profile
If you don't already have a LinkedIn profile, now is the time to get one. It's free and enable recruiters and hiring managers to find you.
Whether you have an existing profile or are new to LinkedIn, make sure you get the basics right. Have a high-res professional profile picture (profiles that include a profile picture are 14x more likely to be viewed) a strong headline that articulates your skillset and a short personal summary in the About section which focuses on your key accomplishments.
Example of LinkedIn Headline & LinkedIn personal summary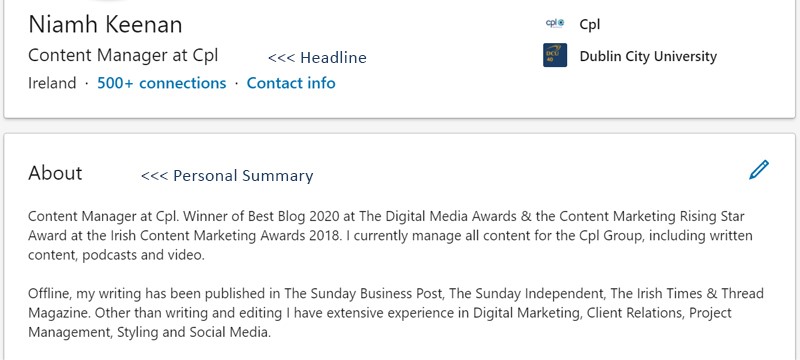 Show that your open for opportunities
There is a handy feature on LinkedIn which show recruiters and employers that you are "open to work". To activate this, go to "settings and privacy" or you should see the option directly under your profile photo.
Once you select this, you can then edit the job preferences that you share by adding job titles, location and different job types such as part-time or contract work.
What about your CV?
Whether you've been with your last employer one year, five years, ten years or more, the most important things to remember when updating your CV is to:
1. Tailor your CV to suit the job you're applying for
2. Be consistent in your style of layout
3. Always list results, not just responsibilities
4. Pay attention to spellings & grammar
Tailoring your CV to every position you apply for probably isn't the advice you want to hear, but it does make a difference – particularly in the current saturated job market. Download our CV Handbook for lots more advice and information.
CV format & length
A good CV should have a consistent and simple layout, there's no need to add graphics, photos or added extras. Simple is best.
Use the following sections for a strong, easy to read CV: name & contact details, CV bio / personal statement, work experience, education, skills, systems & awards (if applicable). You can download a simple CV template that follows this layout here.
Use a regular font (Calibri, Arial or Verdana are all good options), bullet points, headings, and bold text to make important points stand out. When it comes to length a good rule of thumb is to keep your CV to 2 pages and to save in Word format, rather than as a pdf.
Importance of keywords
In today's job market hiring managers and recruiters rely on keywords to find relevant candidates. Many will use parsing technologies or 'CTRL+F' to search for keywords, similarly to how you might search a word doc for a specific word using the CTRL+F command.
Keep this in mind when updating your CV and include relevant keywords, for example, certain skills, systems, or experience, on your CV. If you're unsure of what keywords to use, use the job spec as your guide.
Another good tip to keep in mind is to avoid company-specific jargon. For example, if you've been in the same company for 10 years and they use their own terminology, avoid this on your CV as it won't be recognised by hiring managers or recruiters.
Conveying senior-level experience
For senior positions, it's recommended to break up work experience into 'responsibilities' and 'impact'. This helps convey the strategic results you've achieved in your career.
Focus on the influence and financial impact you achieved throughout your career. If you've excelled in your career you should also include key awards or recognition here. Achievements should begin with action verbs, for example:
'Published XYZ, exceeded sales targets MOM, represented my team in the global headquarters, repeatedly achieved funding and sponsorship etc.'
Personal Bio
A CV bio, or personal statement, is useful if you're switching career, have taken time out from work or have been in the same role for quite a while. This is your chance to brand yourself the way you want and entice whoever's reading your CV to keep reading. Keep it concise, (2-3 sentences) and avoid using the same bio for each application.
CV Bio example:
"Highly organised and adaptable Executive Assistant with 5 years' experience supporting C-level executives in the Finance sector. Experience with complex travel arrangements, calendar management, processing expenses using Concur, preparing reports and presentations for board meetings, arranging meetings and events, and supporting senior management with ad hoc projects. Experience with Microsoft Outlook, Word, advanced Excel, SharePoint and Concur."
What are some sites for jobs in Ireland?
As mentioned above, LinkedIn is great for researching and finding jobs. It also allows you to set up job alerts, all of which can be done in the 'jobs' tab as seen below.
​

​
​
​
​
Indeed is another popular site for jobs in Ireland as are jobs.ie and irishjobs.ie.
On Cpl we have our own job board which covers all sectors across Ireland and the UK, including finance, technology & IT, jobs that require language skills, social media jobs, HR, sales and retail roles and healthcare amongst others. Jobs are updated every day and, like LinkedIn, you can set up job alerts once you've created an account.
Whichever site or sites you use try and do so in a structured way, this will help avoid that feeling of job search fatigue. For example, set aside a specific time where you focus on applying for jobs – this could be an hour a day, a half day every Wednesday or whatever works for you.
By allocating time you're more likely to do it and it'll free up your headspace the rest of the time to focus on other things. If you're still struggling reach out to a recruiter. All our recruiters are working remotely and available to give you a call or to set up a quick chat via video.
To read more

blog posts

like this visit the blog section of our website or follow us on

LinkedIn

for regular updates