Why haven't you changed your job this year? What is stopping you from going out there getting a new role that better meets your needs? A job with better pay, benefits, flexibility, and prospects? Over recent years, we have gone from a buyer's to a seller's market. There has been a shift from employers getting to choose from a wide array of applicants to candidates offering their services to the highest bidder.
For anyone working in technology, this is old news. The Technology sector has been dealing with a shortage of qualified staff for years. But now we are seeing the skills gap, the Great Resignation, and the impact of Covid expanding the employee shortage to lots of other industries.
Hiring is not getting any easier for employers. Especially for hiring managers in tech, with 61% of them seeing hiring developers as their current biggest challenge.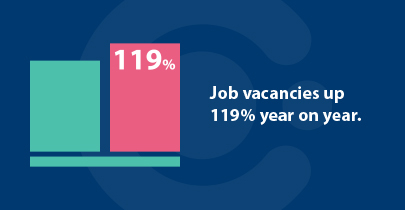 ​
In May 2020 we saw headlines like this from the ERSI, "Irish economy faces largest recession in history as lockdown takes its toll". But the predicted post-Covid economic downturn never materialised. In fact, the opposite occurred. And the job market is still growing strong in most sectors, with job vacancies up 119% year on year according to Irishjobs.ie. Why haven't you changed your job this year?
Impact of the skills gap - What's on offer?
Sticking with one company for your entire career is the exception rather than the rule, 40% of LinkedIn users change their job, company, or industry every 4 years.
Yet many people remain in roles which they dislike or aren't aligned with their career ambitions. Whether it's a fear of change, a lack of confidence or simple inertia, many people aren't even exploring their options. Especially those who are comfortable in a non-inspiring job.
The current skills shortage means jobseekers with experience in high-demand roles have a lot of leverage to improve their employee package. Particularly candidates experienced in Tech, Fintech, and Life Sciences and other growth industries.
While not focusing on wages, which are also rising, let's look at the perks and benefits which are now on the table as hard pressed employers try to woe workers.
Flexibility
Flexibility may be more a deal breaker than a perk for some. But employers are not just extending the work from home model, a lot of people really want to get back into the office. Flexible work can be personalised to suit your work life balance needs. This can be anything from an individualised hybrid working model to working from another country for a period of time over the year.
Employers are becoming more attuned to employee's need. And are allowing people to fit work around their lives, instead of the traditional expectation of fitting life around work obligations.
Increased time off
Netflix, LinkedIn, and others have adopted unlimited time off policies. For LinkedIn, Discretionary Time Off, "will give our employees the ability to better meet their personal needs, which will then allow them to bring their best self to work." The LinkedIn policy has been in place in the US since 2015 and more companies are coming on board with DTO.
Four-day workweek
Kickstarter and other companies are experimenting with a four-day workweek. Employees are expected to be just as productive and will receive the same pay. Trials run in Iceland between 2015-2019 showed productivity stayed the same, or even increased. As further experimentation takes place in New Zealand and Spain, forward thinking employers should be open to negotiating a four-day workweek.
Mental Health and Wellness
Mental health and wellness needs have really come to the fore over the pandemic. Acknowledging the stress employees are under is a key first step for HR (Human Resource) and managers. So is providing facilities to help employees deal with burnout and other mental health issues.
Increased leave and flexibility are important ways to alleviate work-related stress, so it mental health care through wellness. Having a good wellness program allows employees a better work-life balance and is a no-brainer these days. Employee packages should include stipends for gym membership or other activities. Consider what is important to you and raise it when speaking to recruiters or hiring managers.
More access to leadership
Employees expect their work to matter and to have a sense of purpose. People who live their purpose at work are more productive, happier, healthier, and less likely to switch roles.
Having access to leadership and decision-makers allows people to better understand the purpose of their work. It also allows them to align personal goals with the companies. It allows leadership to get genuine feedback and gives employees a huge sense of belonging, which boosts morale.
Learning and development
'Learning is a lifelong process' has become a business mantra. And with good reason, the half-life of a learned skill is five years. The next ten years will see, 'fundamental changes to the working world,' as automation and the impact of technology grows.
To be successful means to be constantly upskilling. But with the pressures of work and life fitting in L&D can be a huge challenge. Especially if employees feel what's on offer isn't meeting their needs.
Personalized L&D packages, with set time and monetary budgets are becoming less a perk and more an essential. Especially for companies looking to attract and retain capable employees who are motivated and engaged.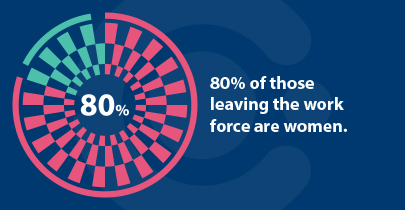 Family benefits
As highlighted in our 'Impact of Covid on women in business' blog, 80% of those leaving the workforce are women. With one of the main drivers being the amount of domestic and childcare work, women are expected to complete after a full day in the office.
Employers keen on bringing this talent back into the fold or recruiting women who are considering leaving the workforce can offer family-related benefits. Three key areas to consider are Childcare assistance, (whether financial or time-related). Allowing more time for upskilling to get back up to speed after a break. Leveling the playing field by offering equal parental leave to men and women.
Stock options
Working for an established company with steady growth and clear career progression gives a sense of long-term security a start-up can't compete with.
However, as Thomas Jefferson once famously stated, "With great risk comes great reward." Taking the plunge and joining a newly formed company, with big plans, unlimited opportunity, and an unpredictable path, isn't for the faint of heart. However, the rewards can be amazing, especially in terms of stock options. A perk many start-ups, who don't have the capital or infrastructure to compete with well established businesses, are offering.
In the past two years at least 3 Irish start-ups have reached the unicorn status of billion-dollar companies. Many others have been sold on in multimillion-dollar deals. Getting in on the ground floor of one of these companies could lead to financial success. Regardless of the outcome it will be an intense experience.
Conclusion
The surge in job postings and shortage of applicants gives candidates a clear advantage when it comes to negotiating new roles. The pandemic has changed employer's whole strategy towards many aspects of work, including flexibility, wellness, and L&D. And with over 41% of workers globally considering quitting their jobs, employers are going to have to get more creative to attract and retain talent.

Workers are in a unique position, especially those with experience in high demand sectors. Don't allow pre-conceived ideas or fears stop you from looking at what is possible in the world of work today.

Take the first steps on your path to a better role by registering your CV with us today
​