​Is The Boom back?
From the Independent to Newstalk to Twitter, The Boom is back had been trending since the Central Bank issued its first quarterly economic bulletin of the year. Employment is set to grow by an average of 6.9% by 2024, salary increases will outpace inflation, and the jobless rate should fall below 5% by 2024. The red flag all this good news raises is the economy could grow too quickly and put more pressure on organisations dealing with the ongoing talent gap.
Employers across the country, already finding it difficult to recruit and retain qualified talent for a wide range of roles, are expanding the salary and benefits packages. The increased need for talent is making it more difficult for hiring managers to secure candidates for new roles.
The need to expand which benefits are available also aligns with Job seekers' current wants and needs. Cpl's Future of Work Institute, Future Working Report found over the past year 44% of people's contract priorities shifted. For this cohort benefits including, better work-life balance and remote work now outweigh compensation and career progression as pay and benefits packets priorities.
To better understand how job seekers and employers are looking at the job market, our recruitment consultant teams looked at key trends, salaries, and in-demand benefits for 15 major sectors for the Cpl Salary Guide for Ireland 2022.
As the boom returns to Ireland let's have look at some of the most in-demand roles in 2022 and the pay and benefits packages they command.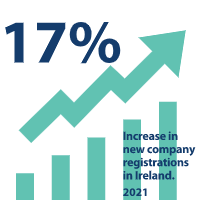 Most in-demand role: Financial Accountant/ Finance Analyst
Salary range: €50,000-€65,000
In 2021, there was an increase of 17% in new company registrations in Ireland alone. The Legal, Accounting, and Business sector were the biggest contributors to new company start-ups in 2021. This growth can be felt throughout the Accounting and Finance sector with start-ups hiring from the top-down throughout 2021 and this trend is continuing into 2022.
This year, our Accountancy and Finance team has seen a huge demand for recently qualified Accountants. Either coming straight from practice (ACA) or with industry experience (ACCA). A continuing trend as per previous years is that employers lean towards those who have trained in either the 'Big 4' firms (PWC, KPMG, Deloitte, and EY) and/or the 'Top 10' firms. Employers are looking for candidates that have experience ranging from 6 months to 3 years within the financial sector. Some important skills listed by our recruitment are strong accounts preparation skills and IFRS knowledge. If you're looking to stand out from the crowd, Group Consolidations experience and US GAAP exposure are two trends that employers are favouring in 2022.
Most in-demand role: Quantity Surveyor
Salary range: €65,000 - €90,000
Quantity Surveying shortages are currently at their most acute in almost a decade. Construction projects are bouncing back from the recession of a decade ago. The Government's Housing Programme promises to deliver 300,000 homes a year by the mid-2020s. But the lack of Quantity Surveyors continues to pose a real challenge to all sectors within Ireland's Construction and Property industry.
The future of the Quantity Surveying landscape is exciting. New technologies are set to make the role leaner, smarter, and more in-demand but also more responsible for costing and commercial reporting of projects, as well as more client-focused.
According to our Construction and Property tea aside from 5-10 years post-grad experience, softer skills matter more now than before. Core skills including impeccable mathematical skills, excellent attention to detail, analytical thinking, persuasive negotiation ability, and a calm demeanor are of course essential.
Employers want a candidate that can show that they will always understand client's needs and are able to work on their own initiative.
Most in-demand role: Data Protection / Privacy Lawyers
Salary range: €70,000– €100,000
Data Protection and Technology roles are in huge demand. And will only continue to have increasing importance across the country with the rise of the number of Technology companies in Ireland and the continuous development in the market.
There is no better time to move into the Technology sector and use the developing market to grow your own career at a rapid rate.
One of the current benefits noticed by the Legal team is that there has been a huge shift to hybrid working across most practices in the Irish Legal sector. This can mean that roles not offering hybrid working are losing out on talent. Those who have spent within 3 – 5 years in Data Protection and Privacy are being sought out by Irish Law firms. Candidates with CIPP/E and IAPP qualifications are important to those hiring in the Legal sector but having experience in a GDPR / Privacy related position can give a candidate the extra edge. ​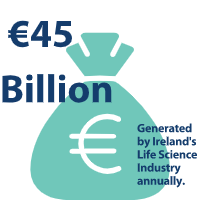 Most in-demand role: Quality Assurance and Regulatory Affairs Specialist
Salary Range: Specialist: €40,000-€65,000 Director: €160,000+
The Life Science industry in Ireland exports more than €45 billion annually and employs over 50,000 people. Life Sciences is thriving, the most popular job titles are within Quality Assurance and Regulatory Affairs. These are two booming areas with a need for roles from the specialist level right the way up to Director level. There appears to be a skills shortage and a growth in the areas in businesses, driving the demand for talent.
Employers are keen to find people who have worked in similar fields, for example, a Biotechnology company hiring Quality Assurance and Regulatory Affairs roles; their preference is for previous Biotech experience. Despite this, there are some employers who are becoming more generalist and accepting any Pharmaceutical background for a move into Biotechnology. For employers looking to fill QA and RA roles, cultural and team fit is extremely important, with agility being key.
Another trend we have seen in the Life Sciences sector is that employers want to find candidates who will work fully onsite initially, with hybrid working as an option after probation. This is an area where communication skills are crucial. If employers are not more open to allowing hybrid working this will continue to be a challenge as most QA and RA individuals have been working fully remote since the start of the pandemic, proving that their role can be done offsite.
Most in-demand role: Recruitment Consultant/ Talent Acquisition Specialists
Salary range: €40,000-€90,000
Going into 2022, the Talent Acquisition market remains very competitive, and given the shortage of experienced recruiters, in candidates favour. Employers are finding it particularly challenging to hire contract Talent Acquisition roles as permanent options are plentiful in the market, offering competitive salaries and benefits packages.
Despite the shortage of candidates, employers know exactly what boxes a candidate needs to tick. For those looking to secure a job in Recruitment in 2022, full lifecycle experience, strong sourcing skills using various tools, and the ability to demonstrate past strong delivery are key areas employers are looking for in prospective candidates.
On the Multinational side of Talent Acquisition, companies are looking for candidates who understand the dynamics of complex environments and the knock-on effect it has on recruitment processes. As the ongoing demand continues, there's also positive news for recruiters looking for in-house opportunities without previous experience. More than before, employers hiring for in-house roles are considering candidates with strong agency experience.
If you're looking at exploring a career in recruitment this year, check out our internal roles at Cpl.
Most in-demand role: Business Development Representative German, Dutch, French Speakers
Salary range: €37,000+
The most in-demand roles currently in the Language sector in Ireland are Business Development Representatives. Clients are seeking applicants with sales prospecting experience and a drive to meet and exceed measurable performance goals. These alongside soft skills such as strong organisational time management and communication skills - both verbal and written in English and market language are essential. As some aspects of the job may require it, candidates must be comfortable with making cold calls.
With so many employers in desperate need of the same skills and talent, candidates can demand more when it comes to salary and benefits. This means that employers looking to hire the best of the best will have to work harder to stand out and attract the top talent.
Most in-demand role: Digital Marketing Manager
Salary range: €60,000-€85,000
Digital transformation is the story of the pandemic for marketing professionals. Brick & Mortar businesses moved online and scrambled to bring in staff who could quickly adapt their business model to the new way of working. All indications are this will continue in 2022 and beyond.
eCommerce saw ten years of growth in three months in Q1 2020. The growth rate continued into 2021 and this year, while it is predicted to slow, will still be a bumper year. ECommerce is here to stay.
Marketing as a function has become more strategic and essential to survival for businesses and employers are seeking candidates skilled in paid search advertising, social media marketing, marketing analytics, and customer insights. This is where the demand for Digital Marketing Managers has come in.
The most attractive candidates are those with 6–8 years' industry experience across a range of marketing automation tools with strong analytical skills and a performance-based approach.
Most in-demand role (Permanent): Customer Services
Salary range: €23,000 – €26,000
Most in-demand role (Temporary): Clerical Officers/Junior Administrators
Salary range: €25,000
Over the last 7 months, the Office Support team in Cpl has seen a significant uplift in the Irish job market across temporary and permanent roles. This according to our recruitment specialists, is down to the restored confidence in companies and the pent-up need to hire as organisations continue to grow and expand. For permanent roles, there has been a huge increase in the number of Customer Services positions on offer. For these in-demand positions, employers are expecting 1-3 years of experience in a similar environment with a call centre and customer services background. As there is a huge need for talent and employers are offering targeted bonuses of €2,000-€4,000.
The temporary Office Support sector has also flourished within the last year. The most in-demand roles for 2022 are Clerical Officers/Junior Administrators. Similarly, to permanent positions, employers are looking for suitable candidates with 1-2 years of relevant experience. Candidates who previously may have been too far to commute to the office daily can take advantage of hybrid work models and apply for a wider array of roles.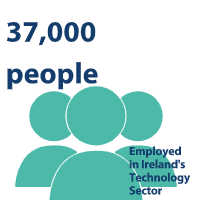 Most in-demand role: Cloud Architect
Salary range: €120,000-€140,000
Ireland's Technology Industry is continuing to grow. Currently, the Technology sector employs over 37,000 people and generates €35 billion in exports annually in Ireland. Cloud Architect roles are just one of many that are high in-demand within the Technology industry in Ireland.
With the rapid transition to cloud services, businesses in all sectors have a need for Software Architects who specialize in the cloud and distributed systems. The industry is at a stage where large businesses are moving to cloud-based systems for increased efficiency, lower IT costs, and improved security. As it continues to grow, architects with expert cloud knowledge command some of the highest salaries in Technology.
Most in-demand role: Supply Chain Manager
Salary range: €75,000-€100,000
In the Irish Supply Chain sector, Pharma, Biotech, Food & Retail distribution are the busiest areas. There is a skillset shortage of experienced Supply Chain Managers and companies are increasingly looking to bring in talent from abroad, as well as facilitating mentoring programmes to promote from within.
For the role of Supply Chain Manager, employers are seeking candidates with a background working in highly regulated, GMP environments with ideally 10+ years of experience in Pharma, Food, and Retail.
Conclusion
Our most in-demand roles give a snapshot of market growth over the year, but not the whole picture. The main trend across every sector for 2022 is, a shortage of qualified staff is driving up demand in a growing economy. If your sector or job title isn't on the above list, search the live jobs section and reach out to the Recruitment Consultants managing the positions. Happy hunting.
​
Sources: